Billionaire businessman Warren Buffett is putting his money where his mouth is – by signing a giant ice cream spoon for charity.
The CEO of Berkshire Hathaway has teamed with the Dairy Queen system to auction off a 33-inch, five pound, red metal DQ spoon with his autograph to benefit the Children's Miracle Network Hospitals, a non-profit organization dedicated to saving and improving the lives of children by raising funds for 170 children's hospitals.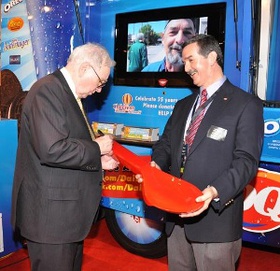 The recognizable DQ red spoon accompanies the treat industry leader's popular Blizzard Treats and signature Royal Treats served at Dairy Queen and DQ Grill & Chill locations around the world.
Bidding is now open on eBay and will run through Friday, July 30. The opening bid is 99 cents. The online auction will be managed by Auction Cause, a premier auction management agency.
The larger-than-life spoon embellished with Buffett's "John Hancock" was custom designed to adorn the DQ Blizzardmobile which took to the road in April to celebrate the 25th birthday of the Dairy Queen system's iconic Blizzard Treat. The Blizzardmobile has been traveling across the U.S. and Canada over the past four months distributing more than 75,000 free new Mini Blizzard Treats, all while raising awareness and funds for Children's Miracle Network. The giant DQ spoon was signed by Buffett when the Blizzardmobile made a stop at the Dairy Queen booth during the Berkshire Hathaway shareholders meeting this past May.
The auction kicks off the Dairy Queen Fifth Annual Miracle Treat Day on Thursday, August 5 when $1 or more from every Blizzard Treat sold at participating locations that day will be donated to Children's Miracle Network.
"Miracle Treat Day is an important event for us and represents the enthusiasm and generosity that everyone in the DQ family and our customers have for helping children," said John Gainor, president and CEO of International Dairy Queen, Inc. "We appreciate Warren's help to raise awareness and funds for Children's Miracle Network."
Dairy Queen is one of the top 10 contributors to Children's Miracle Network, having raised more than $81 million since 1984.
Access the auction here.