Scottish charity Mary's Meals has been chosen to be the subject of a BBC Radio 4 appeal.
The appeal, which will be presented by Duncan Bannatyne, the Glasgow-born entrepreneur and Dragon's Den star, will be broadcast this Sunday, August 1.
Duncan Bannatyne is a long-time supporter of Mary's Meals and has visited its projects in Malawi and Romania – experiences that he will talk about on air.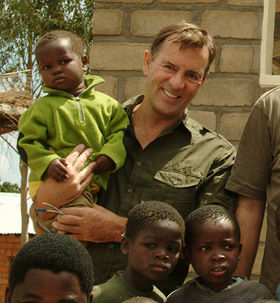 The three-minute broadcast will focus on Mary's Meals' work providing some of the world's poorest children with a meal a day in their place of education. Listeners will also hear the sounds of children singing and playing at a school in Malawi.
"We want to thank Duncan Bannatyne for giving his time and energies to help Mary's Meals, and the Radio 4 appeal team for their advice and support," said Magnus MacFarlane-Barrow, Mary's Meals chief-executive. "Mary's Meals is growing rapidly and this BBC appeal is a wonderful opportunity for us to share our story with people across the UK."
Mary's Meals feeds more than 400,000 children in 15 of the world's poorest countries. The charity works with volunteers to provide free school meals, giving children vital nutrition and an incentive to focus on their studies.
Tune in to hear the appeal on 92-96 FM, Sunday August 1 at 07:55 and 21:26 or on Thursday, August 5 at 15:27. It will also be available online from Sunday here.