Prince Harry was won over by a young boy who greeted him with a passionate hug at an awards ceremony to recognise the courage of seriously ill children and their families.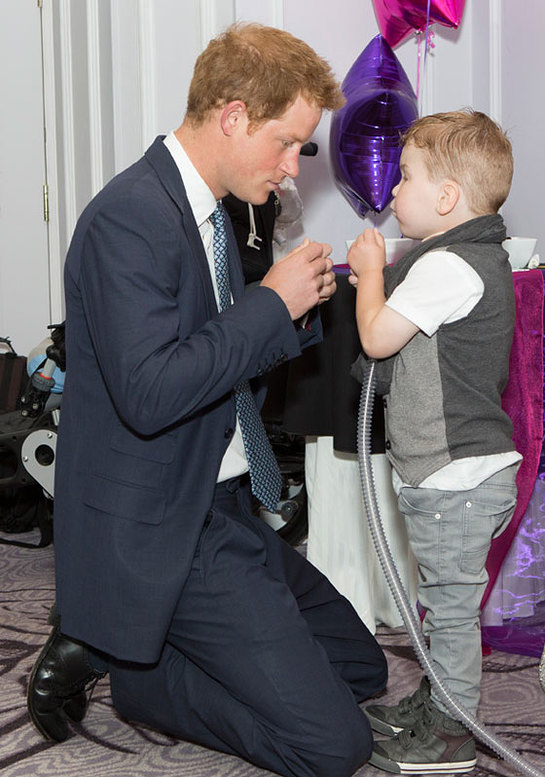 The Prince met with winners of the 10th annual WellChild Awards at the Hilton in Park Lane, Central London.
Four-year-old Carson Hartley, who has a heart defect and is fitted with a portable ventilator, wasted no time in running straight up to Prince Harry and wrapping his arms around his legs.
The pair then exchanged a number of high fives while His Royal Highness chatted to Carson's parents about his complex heart condition.
His mother Kirsty said: "We were worried he was going to high-five Prince Harry in the face he was so excited.
"Harry got down on his knees and had a big smile on his face while he was chatting to Carson, he couldn't believe how active he was despite all the conditions he has.
"He said he thought he was inspirational for still being so happy, but he also said that parents must be recognised too for how hard they work, which was really nice to hear."
The WellChild awards, of which Prince Harry is Patron, recognises the courage of children and young people living with serious illnesses as well as the dedicated families, nurses and doctors who care for them.
The Prince was also presented with a pottery pig that was designed to look like him, with the addition of curly red hair and a suit and tie.
The Prince, who had the letter "H" inscribed on the soles of his shoes, has been patron of WellChild since 2007 and is guest of honour at its annual event.
"This event seems to get bigger and better every year for those of you who have been before ; it is fantastic to see so many people getting behind WellChild," said Prince Harry. "The charity continues to go from strength to strength in its mission to support children, young people and families all across the UK. First and most importantly, I would like to congratulate each of the Award Winners – your stories are moving beyond words and remind us all of just how fantastic you all are. You are an example to us all – we can learn a great deal from your strength of character, resolve and humour in facing down challenges every day.
"WellChild remains committed to ensuring the very best care is available for all children who need it. Thanks to the fantastic support the charity has received this year:- WellChild has been able to increase the profile and awareness of its work- It has raised more money than ever before- Expanded its network of WellChild Children's Nurses- And ultimately reached many more families who need so much help."
The awards ceremony was hosted by TV presenter Vernon Kay and was attended by the charity's celebrity supporters including Dragons' Den star Duncan Bannatyne, comedian Russell Howard and pop singer Pixie Lott.
Source: www.princehenryofwales.org