Be dazzled, be enthralled. Be there. For a once in a lifetime night of sheer rapture clear your diary for Handbag Heaven 2010, a unique charity evening encompassing an exclusive Harvey Nichols fashion show, as well as an auction of handbags donated by celebrities.
Handbags donated so far include a Coccinelle bag from Annie Lennox and a vintage turquoise expanding clutch bag donated by Sienna Miller.
Proceeds from the event will go to the Women's Fund for Scotland, which supports charities and voluntary organisations working with disadvantaged women and girls. These groups provide life changing skills; opportunities to learn and ways to build the confidence of those overcoming domestic violence, poverty, or ill health.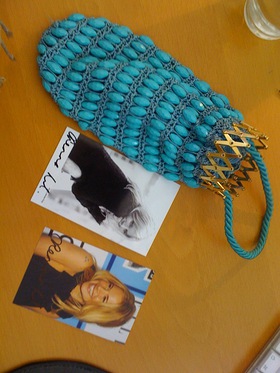 "I am happy to donate something I love to such a good cause," said Sienna.
Bubbly and divine cup cakes will delight the taste buds, before your eyes feast on the dazzling array of designer handbags donated by the biggest celebrity names, slung over the arms of the most beautiful models. Should you spy an accessory that's heaven on earth, be prepared to aim high at the auction to follow.
Paradise isn't confined to the celebrity handbags on offer. There's also the brown paper bag raffle. Its plain exterior hides treats that will send you to seventh heaven.
You won't go home empty handed. A heavenly goody bag filled with a cornucopia of must-have's will be yours to take away. Cloud 9 awaits!
The event takes place on Monday, September 27. LookToTheStars.org will keep you updated with news and the location as soon as it is announced.