In honor of National Suicide Prevention Week, non-profit organization To Write Love on Her Arms has partnered with pop rock band Boys Like Girls to introduce a new t-shirt titled "I Am Alive."
Proceeds from these shirts will go toward the launch of IMAlive, a live online crisis network.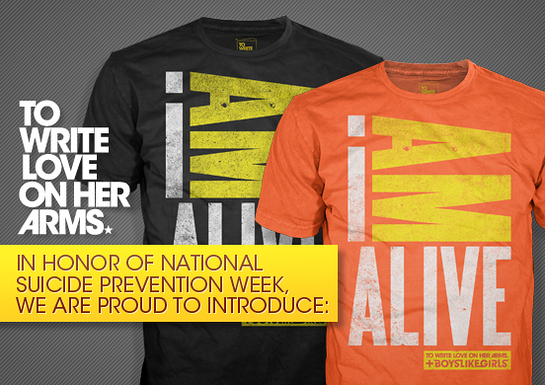 With orange being the color of National Suicide Prevent Week, the orange "I AM ALIVE" shirt is to honor this week and will be available for a limited time only. The shirts are available online and printed inside each shirt are the lyrics to "Go" by Boys Like Girls. IMAlive will be a live online crisis network that will be able to reach those online who may not otherwise pick up a phone to call a suicide hotline or talk to a loved one during their darkest times.
Boys Like Girls have been long-time supporters of TWLOHA, and this past spring shared the road with TWLOHA for The Bamboozle Roadshow. During the tour they spent a lot of time talking with lead singer Martin Johnson about how suicide has personally affected his life. In 2006, Martin lost one of his best friends from high school to suicide. 

To Write Love on Her Arms is a non-profit movement dedicated to presenting hope and finding help for people struggling with depression, addiction, self-injury and suicide. TWLOHA exists to encourage, inform, inspire and also to invest directly into treatment and recovery.
To purchase the shirt, click here.