Samuel L. Jackson, Kanye West, Claudia Schiffer, Sugababes, Corinne Bailey Rae, Beverley Knight and Sophie Ellis Bextor are all 21st Century Leaders. To become so, their first level of engagement and commitment has been to donate their original artworks to the 21st Century Leaders' Whatever It Takes Campaign.
Whatever It Takes is an ethical and charitable lifestyle product campaign, which involves more than 600 celebrity leaders in all fields including; Royalty, Nobel peace prize laureates and well-known leaders in the fields of film, music, fashion, art, sport and literature.
As ambassadors and 21st Century Leaders in the fields of film, fashion, and music, Samuel L Jackson, Kanye West, Claudia Schiffer, Sugababes, Corinne Bailey Rae, Beverley Knight and Sophie Ellis Bextor each created an original piece of art with a strong message of hope. This artwork has been designed into a variety of environmentally sustainable lifestyle products, created by producers who are working towards the Whatever It Takes ethical policy. The products are sold to raise funds for education, health and environmental programmes, through the Whatever It Takes Web Shop, as well as through 4500 prestigious retail partners globally, including Harrods, Selfridges, Bloomingdales, Macy's, Lane Crawford, David Jones and Harvey Nichols amongst others, and will soon be available for the first time in Abu Dhabi.
21st Century Leaders Foundation is honoured to be the very first international charitable foundation registered at Masdar City in Abu Dhabi. Masdar City is a US $22 billion free zone located in Abu Dhabi, and this will become the foundation's new, environmentally sustainable headquarters for the GCC region.
21st Century Leaders will leverage the influence of its 600 international celebrities, in their respective fields, to raise awareness and engage the GCC community in positive steps to mitigate climate change, conserve regional and international marine and wildlife environments in partnership with other local environmental programmes.
Charlotte di Vita MBE, Founder & Trustee says "21st Century Leaders Foundation shares Masdar's vision to support youth in the GCC to lead in the promotion of social enterprise and sustainable development solutions, in a manner that is both fun and educational. We look forward to bringing our celebrities to Abu Dhabi to engage with the communities here, to raise awareness on important local ecological conservation and innovative solutions to poverty".
On becoming 21st Century Leaders, the ambassadors visiting Abu Dhabi said the following: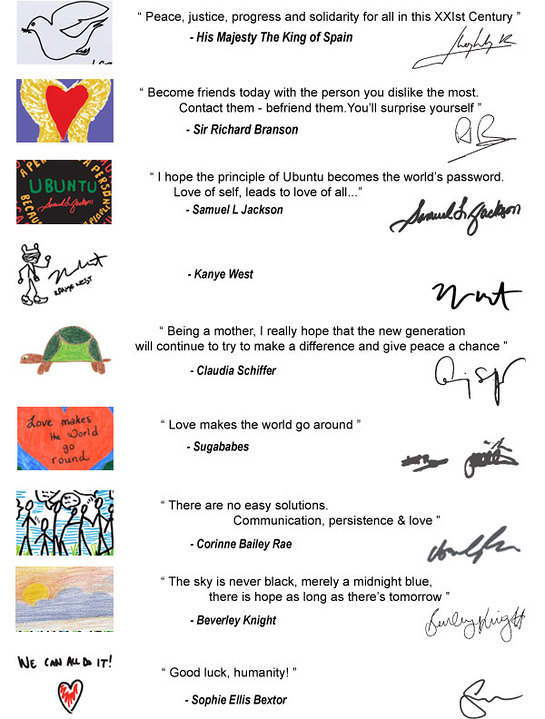 In honour of the launch of 21st Century Leaders in Abu Dhabi the charity has designed the first ever celebrity iPhone covers, as well as iPad covers and skins, which will sit alongside the existing t-shirts, watches, mugs & plates, wall and alarm clocks, featuring the artwork donated by the 21st Century Leaders who are visiting Abu Dhabi this week.