Celebrity 'it-girl', former wife of Noel Gallagher, and designer Meg Mathews has publically spoken out against the brutality of the trade in monkeys for experiments with the British Union for the Abolition of Vivisection's (BUAV) hard-hitting campaign Stop the Baby Trade.
Meg Mathews was shocked by the BUAV's evidence of the brutality and cruelty inflicted on our close living relatives during their capture, confinement, caging, transportation and eventual death in the laboratory. Speaking out on film for the BUAV, Meg reveals the cruel trade in monkeys for research. "These monkeys are snatched from the wild, imprisoned in farms and forced to produce babies who are snatched from them and later sent as airline cargo on long journeys overseas for the research industry."
In the film, Meg reflects on one of the most abhorrent practices faced by victims of the monkey trade – the forced early separation of a mother from her infant. "As a mother I can't imagine the pain and distress of having my child ripped from my arms" says mother of one, Meg. Imprisoned on breeding farms, wild-caught mothers can have their babies taken from them at just six months of age. Weaning for monkeys is a gradual process, and in the wild monkeys normally remain with their family group for many years, sometimes for life. Forcibly separating infants from their mothers is extremely cruel and distressing for both mother and baby.
Meg Mathews appeals to those concerned: "This is so wrong. I urge you to help the BUAV to Stop the Baby Trade." Her plea comes just weeks after BUAV broke news of their latest investigation into the primate trade which exposed Mauritius as one of the major suppliers of monkeys to UK laboratories. BUAV found trappers tearing wild monkeys from their families and jungle homes to be exported directly for research or imprisoned on farms to produce babies who are later shipped overseas as cargo on airlines, where they will likely suffer and die in cruel experiments.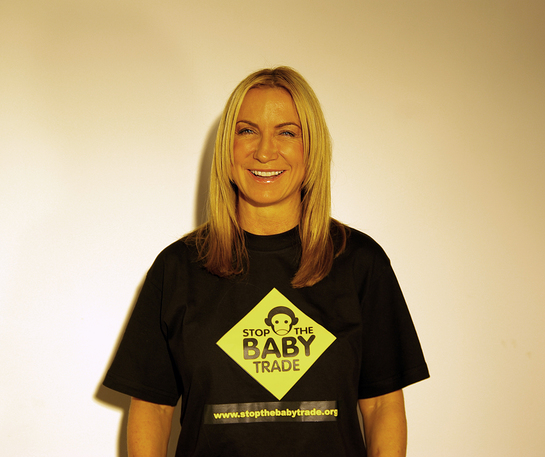 BUAV's campaign calls for an end to the cruel international trade in monkeys for research. Meg joins other celebrities supporting the campaign including Ricky Gervais.