By Tim Saunders on
Kristen Bell wants you to help support charity by buying a special necklace she designed.
The actress is asking for $45 dollar donations to Invisible Children in return for the necklaces, which would make a perfect Christmas gift.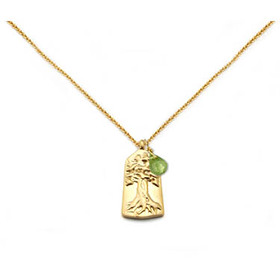 "I just got back from Uganda," Kristen writes on her CrowdRise.com page. "I went with Invisible Children to see the work they are doing there and to meet the kids who have survived so much and are now thriving. Children who had become both weapons and victims of unspeakable atrocities – all perpetrated by one man, Joseph Kony.
"The mission of Invisible Children is bold: to prevent the large rebel force – led by Kony – from continuing their abduction of children and creation of child-soldiers. Over 30,000 children have been abducted in Uganda since 1986. Many of these kids have been trained and transformed into child-soldiers. The details of what happens are alarming and brutal. Each and every dollar will help to stop this inhumanity.
"The donations will also build new schools and provide education to the area's war-effected kids. The charity is run by close and personal friends of mine, so I know our donations are going to a good place and being used wisely!
"Please join my team. Buy a necklace, have a bake sale, ask all your friends to donate. Donate in their names and send them a gift card. Whatever you can do to help will make a huge difference."
Find out more here.