Fans of The Lord of the Rings are rejoicing in the news that Sir Ian McKellen will return as Gandalf the Grey in The Hobbit – and what better way to celebrate than to bid on items signed by the actor in a very special charity auction.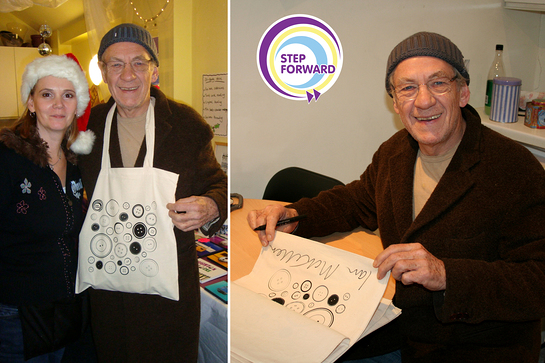 Sir Ian is patron of Step Forward, a charity based in East London that provides a free and confidential service to young people aged 11-25, living in and around Tower Hamlets. It offers independent information, advice, counselling and personal development training. Step Forward actively challenges discrimination and welcomes young people from all sections of the community regardless of their race, gender, disability, sexuality, religious, political and cultural lifestyles and beliefs.
Just prior to Christmas, Sir Ian attended the charity's Christmas Fayre: "Christmas began early at Step Forward, with neighbours, supporters, clients and staff raising funds and good cheer. I met Santa and the Pearly Royals and bought most of my Christmas presents. Hurrah!"
While at the event, Sir Ian signed 10 of the charity's special canvas bags, and these are now being auctioned to raised funds for the charity. The bags are designed by a local artist Pello, and inspired by the East End Pearly Kings & Queens. By buying one of the bags you will be helping Step Forward to provide essential support service to vulnerable children and young people in the East End of London. 100% of the money raised will go directly to Step Forward.
One bag is being auctioned every day for the next 10 days, so be quick to get your hands on one of these very special items.
Access the auction here.