Here is a once-in-a-lifetime chance for those who want to emulate guitar legend Slash – the former Guns N' Roses axeman is to auction off two of his trademark top hats, a collection of guitars and his Corvette Stingray for a good cause next month.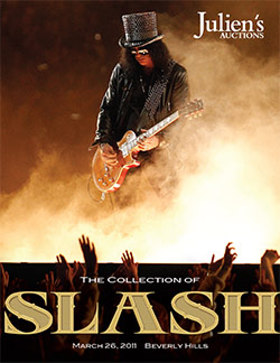 Highlights from this sale include two versions of Slash's Gibson signature guitars, stage and event worn T-shirts, Slash's diamond encrusted guitar pendent, a pair of monumental red suede conversion sofas from Slash's home, Slash's Harley, 1966 corvette, and other eclectic items from Slash's travels around the world. From Guns N' Roses early days, through the formation of Velvet Revolver to Slash's solo career — every period of Slash's career is represented in over 300 items.
The items can be viewed at Julien's Auctions showroom in Beverly Hills at 9665 Wilshire Boulevard from 10am to 5pm Monday through Saturday starting Monday March 7th through Saturday, March 26th.
A portion of the proceeds from this sale will benefit one of Slash's favorite charities, Los Angeles Youth Network (LAYN). LAYN works to empower abused, neglected and homeless adolescents to become self-sufficient.
The auction takes place on March 26. Fans who attend the auction dressed as Slash will receive a free catalog. More information can be found here.