By Natalie Schaefer on
Singer Annie Lennox visited Malawi last month as part of her role as special envoy for the Scottish branch of the Commonwealth Parliamentary Association (CPASB).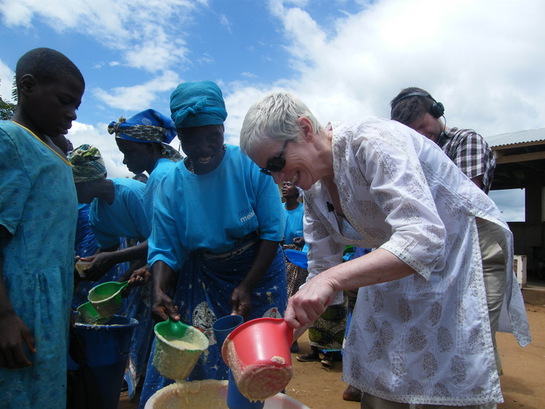 Lennox was joined by the Scottish Parliament Presiding Officer, the Rt Hon Alex Fergusson MSP, for the five day visit which ran from 13-18 February. During the trip, they visited various projects with Scottish links, including schools, feeding centres and hospitals.
One such visit was to The Big Issue magazine office in Blantyre, Malawi, which was set up with support from Glasgow-based charity, International Network of Street Papers (INSP). The project has enabled 400 homeless and vulnerably housed vendors to earn a living since its 2009 launch. The magazine is funded by the Scottish Government, and prints 1500 copies every two months, which are sold in Blantyre, Lilongwe, Mzuzu, Zomba and Mangochi. On completing a tour of The Big Issue Malawi's distribution office, Lennox invited vendors to sing songs with her, as she believes music to be "a great vehicle for sending messages to people".
The Big Issue Malawi works to address many problems, including the stigma surrounding homelessness. Homelessness is often associated with begging, sex work and HIV, leading to homeless people being excluded from society.
Lennox's visit to Malawi ties in with her work as a patron for charities such as Body and Soul, who work to support children, young people and families who are affected by HIV in the UK. But that wasn't enough for her, and she set up her own SING campaign in 2007 after hearing Nelson Mandela describe the African HIV pandemic as 'genocide'.
The money raised by SING helps prevent the spread of HIV in South Africa, but it also raises awareness of HIV all over the world. One of the campaign's aims is to increase global action to support infected and affected women and children, especially in the UK.
A month after her visit, Lennox is due to present her findings from her Malawi visit to MSPs tomorrow, and will also discuss her SING campaign.