America's Baby Cancer Foundation has announced the offer for sale of two music memorabilia items to mark the launch of its new Rock for Kidz charitable program.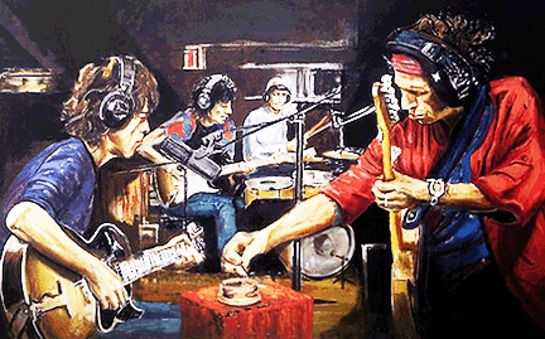 For sale are the worldwide publishing rights to a previously unreleased song featuring Willie Nelson, entitled "Indian Paintbrushes, Blue Bonnets and You," and a limited edition art print by Ronnie Wood of the Rolling Stones, entitled "Conversation Piece." These two items were donated to Rock for Kidz through the generosity of private individuals. The proceeds of the sale will benefit America's Baby Cancer Foundation, a not-for-profit organization that provides support to the families of children with cancer.
The Willie Nelson song is a duet, sung by Willie Nelson and Johnny Darrell and gifted by Nelson to Darrell and his wife, Jody. Willie Nelson is the great American country singer-songwriter, author, poet, actor, and activist. Johnny Darrell was an American country singer whose first single, a version of Curly Putman's "Green, Green Grass of Home" was issued in 1965. Darrell was the first to record the Mel Tillis song "Ruby, Don't Take Your Love to Town," which became a top ten hit for him in 1967 and later a hit for Kenny Rogers. This was followed by his performance of "the Son of Hickory Holler's Tramp" in 1968, and the crossover hit "With Pen in Hand," which would later became a hit for Vikki Carr. In the 1970s, Darrell was associated with the Outlaw country movement, but died a premature death from complications from diabetes.
The Ronnie Wood Artwork is a limited edition art print of a painting, entitled "Conversation Piece," painted by Ronnie Wood in 2005. Ronald David "Ronnie" Wood (born 1 June 1947) is an English rock guitarist and bassist best known as a current member of The Rolling Stones and a former member of The Jeff Beck Group and Rod Stewart's The Faces. The painting depicts the members of the Rolling Stones working together as they rehearse. The art print is one of only 290 numbered limited editions.
Both of the collector's pieces will be sold for the benefit of the new Rock for Kidz charitable program, which was launched earlier this year by America's Baby Cancer Foundation. Rock for Kidz brings the well-documented therapeutic benefits of music into the lives of children with cancer. Rock for Kidz programs include: VIP tickets to concerts for children with cancer; the launch of a program to provide musical instruments for children's hospitals; auctions and sales of music memorabilia; dinners with celebrity musicians; and much more.
"How often do you get the chance to buy the rights to an unreleased Willie Nelson song or a limited edition painting by Ronnie Wood?" asked Shannon Nilsen, Chief Charity Officer for Rock for Kidz. "We are delighted to offer these items and the buyers can know that they are helping such a worthy cause." Nilsen is a Certified Health Educator, whose passion for music is the inspiration behind Rock for Kidz.
Bernard Hicks, Co-Founder and Chairman of America's Baby Cancer Foundation, also commented: "We are so grateful to our donors for the chance to offer these truly impressive collectibles. They provide an immediate opportunity to launch the new Rock for Kidz initiative, which I am sure will rapidly grow to help bring music into the lives of children suffering from cancer."
Rock for Kidz launched on May 2, 2011. Rock for Kidz will display the Ronnie Wood artwork at the SOKA University 10th International Festival on May 7, 2011 in Aliso Viejo, California.
More information on Rock For Kidz can be found here.