Tupperware Brands Corporation celebrated the re-launch of its Chain of Confidence (COC) Facebook page last week at New York's Highline Ballroom with the original American Idol winner, Multi-Platinum and Grammy Award–winning artist Kelly Clarkson.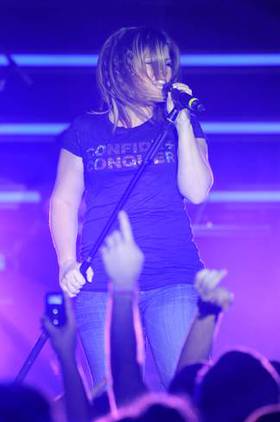 The sold out private event on May 25 drew nearly 500 guests, including celebrities Kelly Rutherford ("Gossip Girl"), Gabourey Sidibe ("Precious"), Alia Shawkat ("Arrested Development"), and musicians Ashanti and Deborah Cox among others.
In addition to the performance, Tupperware Brands sold specially designed Confide + Conquer merchandise to benefit Boys' and Girls' Clubs of America (BGCA). Fifteen kids from the Kips Bay and Glen Cove Boys & Girls Clubs were invited to the concert and were given the opportunity to meet Kelly Clarkson and Ashanti. Tupperware is donating $1 for the first 25,000 "likes" of the newly launched COC Facebook page to the BGCA.
The Chain of Confidence is an online forum where visitors can share stories, get advice from others and form bonds with like-minded women around the world. The resource serves to help women achieve their personal and professional goals.
To learn more, visit www.facebook.com/chainofconfidence or join the #Confidence chain at Twitter handle @confideconquer.