By Tim Saunders on
Angelina Jolie had a busy weekend with the UNHCR, traveling to Turkey to meet Syrian refugees on Friday, and meeting boat people on a tiny Italian island on Sunday.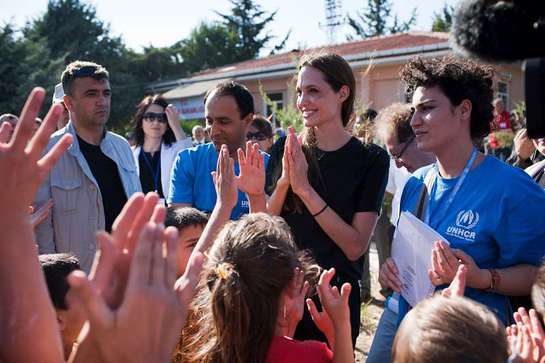 A massive influx of refugees into Turkey has stretched the country's resources in the last two weeks, as thousands of people escape violence in Syria. There are around 10,000 people living in four camps on the Turkish border at the moment, being looked after by the Turkish Red Crescent. Angelina visited one of these – the Altinozu camp in Hatay, where 1,700 people are living – to raise awareness of their plight.
"The people in this camp have fled in fear for their lives, and many told me they were distraught about the safety of loved ones still in Syria," she said. "I am really grateful for the open-door policy of Turkey in allowing these people to enter and the assurances that there will be no forced returns.
"I appreciate the opportunity to visit this camp and talk to these families. It is a really complex situation and everyone needs to be doing all they can for the innocent families caught in the crossfire. I will be following this situation very closely and doing everything I can.
"The government of Turkey and the Turkish Red Crescent have shown tremendous generosity to the thousands fleeing Syria. The Red Crescent has set up camps really quickly and provided medical and other care. And UNHCR stands ready to assist if the situation starts to escalate."
On Sunday, Angelina joined UNHCR chief António Guterres on the Italian island of Porta d'Europa to meet some of the 40,000 people – including unaccompanied children – fleeing North Africa by boat in an attempt to reach Lampedusa. It is an extremely dangerous journey, with 1,500 estimated to have died. Around 18,000 people have completed the hazardous journey from Lybia – only 2% of those who have left since violence started in February.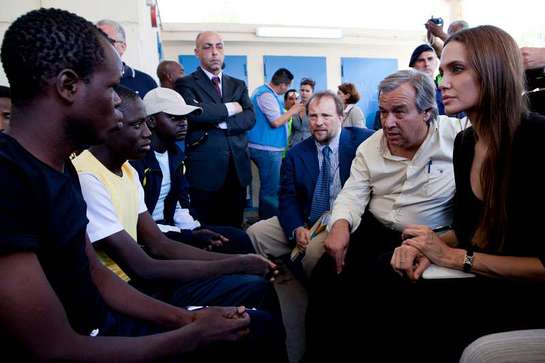 "It was very moving to stand with the mayor, the priest and the people of Lampedusa at this place, to take a moment of silence while a wreath was laid on a submerged boat on which three people had lost their lives," said Angelina. "When I think of these people, these families, I try to imagine what would bring someone – for example a mother with children – to make this journey. What kind of a life she must have lived, what she must have suffered, to be brought to a point where her last resort is to step onto an overcrowded rickety boat.
"What must her life be like that the best alternative is to risk drowning and suffocation . . . only to be brought to a new country where she may be turned away. Sent back to sea. Very few of us here today can even begin to understand what kind of painful existence she must have led."
Angelina also visited Malta on Sunday, which is also a destination for the refugees.
"Malta has saved many lives, but it is the daily conditions on the ground that are of most concern," she said. "We've spent time today speaking with the government and will spend more time talking about how, together, we can make the conditions more humane, especially for the children.
"We've spoken about our shared concerns about making sure asylum claims are processed as quickly as possible so no-one is sitting in a prison-like situation and waiting on a decision about their status.
"They are not asking to go to any particular country, they just want to find safety to work, and to have freedom."
Photos: © UNHCR / J. Tanner
Source: UNHCR