British Prime Minister David Cameron recently stepped back and handed the controls of the country to a very special young boy.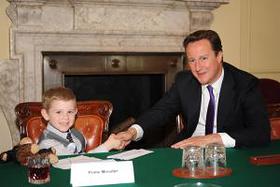 Make-A-Wish UK and Britain's leader joined together to grant the wish of seven-year-old Joe, who has been ill most of his life, and was recently diagnosed with a brain stem tumor. His wish to be prime minister for the day may sound like a tall order – but Make-A-Wish is known for making things happen!
On arrival at Downing Street, Joe knocked on the famous black door before being taken on a special tour of No. 10. He walked up the renowned portrait-lined staircase and gazed around the estate rooms before being taken back down to the Cabinet Room, where the PM had very kindly supplied chocolate cake! Joe even got to sit in the Prime Minister's chair – until David Cameron came in to meet him and playfully said: "…And you know you're sitting in my chair…"
Joe and the PM spent some time discussing very important matters, such as whether Mr Cameron had fun at the Royal Wedding, and what his favourite football team was (answer: Aston Villa). Joe then proceeded to put forward some policies he would like to see on the PM's agenda:- chocolate cake for breakfast for every child in school, free electrical items for six months – and no litter. The PM was very much in agreement on the last item! Mr Cameron then showed Joe his office before having to dash off. But the fun didn't stop there – because Joe got to meet Larry, the infamous Downing Street cat with a dislike for reporters!
"I'm honoured to have been able to help grant Joe's wish, it was an absolute pleasure to meet him – and he did a great job as PM," said David Cameron.
The Make-A-Wish Foundation relies on your donations to make the wishes of sick children who face lives full of pain and challenges and uncertain futures come true. To make a donation, click here.