Hollywood golden child Kwesi Boakye recently agreed to be amongst over 50 celebrity designers asked to custom make a "Verymeri" t-shirt for the NextAid Foundation.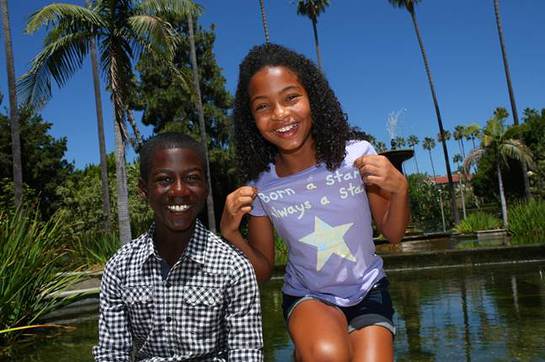 Kwesi Boakye and Yara Shadidi
Kwesi was elated when his creative design was chosen by Nordstrom department stores nationwide and he donated 100% of his royalties from the sale of the tees to "NextAid" non-profit of Los Angeles.
Kwesi decided to team up with another young actor Yara Shahidi to create a visual ad campaign to bring awareness to the NextAid Foundation and to encourage other young people about the message of the t-shirt "Born a Star Always a Star" – which in the words of Kwesi tinsel town's cutie means "You're born the way you are for a reason, so believe in yourself". Yara's words "Everyone is important, beautiful and amazing from the moment they take their first breath" are what makes buying Kwesi's "Born a Star Always a Star" tees at Nordstrom not just a good thing to do but the right thing to do.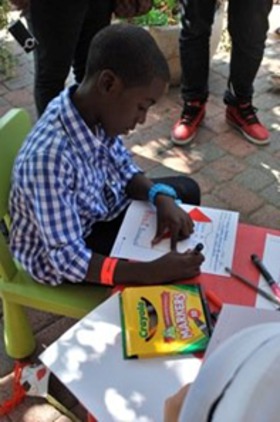 Kwesi Boakye
"NextAid" is a highly respected non-profit organization in Los Angeles and creates projects that serve needy children, youth, and women in Africa. As the great grandson of a Ghana West African King, Kwesi was thrilled to find out that the money raised thus far from the sale of the t-shirts has been used to support the construction of an ecological business facility located in Nairobi slum, the Kawangware Vision Centre. The centre is locally created and managed by former street children to provide positive opportunities to get kids off the streets. To make a donation, go to www.nextaid.org/kawangware.htm.
Kwesi has made a huge name for himself starring in blockbuster films such as Disney's "The Princess and The Frog", Tyler Perry's "I Can Do Bad All By Myself", and has also lent his immense talent to many top rated television shows which include "Men of a Certain Age", "The Mentalist", "Hawaii Five-O", "Southland", "The Amazing World of Gumball" and many more. Also be on the look-out for Kwesi in two highly anticipated films coming out later this year "Unconditional" also starring Lynn Collins and Michael Ealy and "Lives of the Saints" starring multi platinum rapper Curtis "50 Cent" Jackson. So keep your eyes on show business's next great actor whose heart may be the only thing bigger than his amazing talent.