By Misty Schwartz on
On Monday, August 1, at 1pm, celebrities, press and media are invited to stop into Eleanor Jean, Haute Beauty at 13812 Ventura Blvd to celebrate the "Pink" carpet monthly drawing of "A Scent for Humanity".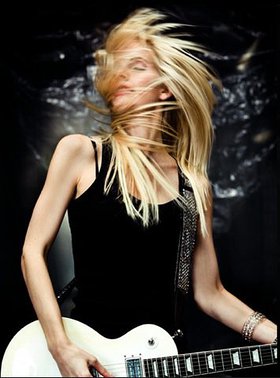 This month Eleanor Jean, Haute Beauty will celebrate with MTV, E!, VH1, Oxygen Network (Bad Girls Club) musician Kelly Harper. Seven of Kelly's songs have already been featured on the Bunim/Murray Productions number one rated show on the Oxygen Network "Bad Girls Club", MTVs "Road Rules," E Channels "Living Lohan" and "Real World." Her song, "Till This Goes Away", has also gained some spotlight; winning the Best Song of the Month Contest awarded by www.SingerSongwriterUniverse.com. Kelly's next CD is schedule to be released Fall 2011 while she is on tour. Kelly has agreed to donate $1 of every CD sold to benefit Santa's Gift and Toys for Tots.
Kelly is helping with the charity drawing at Eleanor Jean, Haute Beauty, as well as creating her own scent to benefit the charity she draws from the basket. Guests will receive complimentary gift bags, desserts and appetizers by Carte Blanche Catering and Events, cupcakes by Rubina's Fancy Cakes, AB Weddings & Special Events, Hint Water and snacks by Food Should Taste Good.
A Scent for Humanity is a charity trend created by Eleanor Jean, Haute Beauty to benefit charities worldwide. Eleanor Jean, Haute Beauty is inviting celebrities into the boutique on the first day of each month to benefit a different charity each month. After the celebrity draws the charity, they will celebrate by creating the perfect scent. After the drawing Eleanor Jean, Haute Beauty will donate a portion of sales to benefit that charity each month. This event will give ALL charities a chance to participate and benefit from the exposure as well as creating scents for each celebrity and every time that scent is sold Eleanor Jean will donate a portion of sales to benefit the monthly charity. This event premiered on July 1, 2011, and was honored to have Lily Elise of NBC's "The Voice" stop by and select "Reading, Writing, It's Exciting" from the charity drawing basket.
Some of the participating charities in the drawing include: Santa's Gift, Toys for Tots, Reading Writing It's Exciting!, H.A.R.K., Children Of The Night, and Alicia's House Food Pantry.
Eleanor Jean, Haute Beauty is the newest and most exclusive beauty boutique located at 13812 Ventura Boulevard next to Belle Gray, Sweet Butter and InvenTori. This boutique offers: Traditional and Airbrush Makeup services, Novalash Lash Extensions, Full Waxing Services, Princess and Bachelorette Parties, Bliss Spa Facials, Lash Dip, Lash and Brow Tinting, Mani's/Pedi's and Gel nails. Some of the VIP's already enjoying Eleanor Jean Boutique include: Lisa Rinna, Tori Spelling, Denise Richards, In Touch Weekly magazine, Vanessa Minnillo, Carrie Ann Inaba, Lisa Vanderpump, Cheryl Burke, Lauralee Bell, Beth Hefner, Nancy La Scala, Kelly Harper, Fiona Gubelmann, just to name a few. This is a very popular and exclusive celebrity hot spot.
For the fragrance buff Eleanor Jean, Haute Beauty also offers custom blended perfume, lotion, sugar scrub, baby wash, bubble bath, shower gel, milk bath, body spray, shampoo or conditioner.
For more information, visit www.EleanorJeanBoutique.com or www.EleanorJeanBoutique.wordpress.com.