Marley Family matriarch and reggae icon Rita Marley, and her son, Grammy Award winning musician, Ziggy Marley and Rohan Marley have been joined by other members of their family to announce a $100,000 donation to charity:water from 1Love.org, a not-for-profit business created with the Marley Family to create awareness and a sustainable flow of contributions to benefit charitable organizations that empower youth, protect the planet and encourage global peace. charity: water is a non-profit organization bringing clean and safe drinking water to people in developing nations.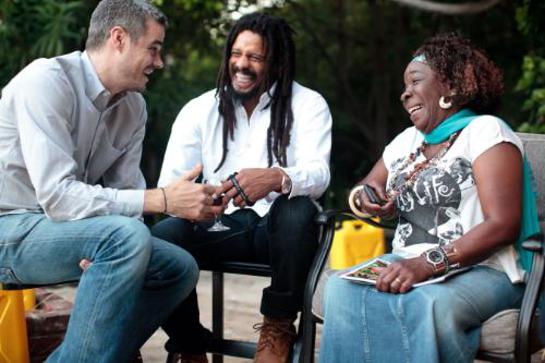 Rita, Ziggy, Rohan and the Marley Family presented the $100,000 check from 1Love.org to Scott Harrison, founder and CEO of charity:water. The funds were raised, in part, from a special 1Love.org Marley Mission launched earlier this year to support charity:water.
"1 Drop for 1Love" encourages people worldwide to virtually contribute a single drop of water and post a message in support of clean water for those in need via 1Love.org. People are also encouraged to personally donate money to charity: water via the 1Love.org Giving Center. The donation was also made possible by contributions from Marley Family ventures, including The House of Marley personal audio products and Marley's Mellow Mood 100% natural relaxation beverages.
"Water is truly the seed of life," said Rita Marley. "We are so deeply grateful to have the support of so many fans, friends, and partners to provide access to clean water for thousands of our brothers and sisters in Ethiopia. The need is so great and time is so short. 1Love.org provides an online home for those who share our family's values and lifelong commitment to better the global community for which we must all be responsible."
In five years, charity: water has funded more than 3,962 water projects in 19 different countries, bringing clean water to nearly 1.8 million people. Just $20 can provide one person with access to a clean water project. 100 percent of public donations go directly to water projects.
"I'm humbled by the generosity of Rita, Ziggy, Rohan and the entire Marley Family and 1Love.org community," said Scott Harrison, CEO and Founder of charity: water. "Together we are moving closer to our goal of helping provide access to clean, safe water to the billion people in the world currently living without it. Clean water will transform these communities."
"As humans, we should live a life of love, peace and respect for all," said Ziggy Marley. "The work charity: water does literally brings life to millions who would otherwise not have access to safe, clean water, which should be a basic human right. 1Love.org is one of our family's many initiatives that seek to help make our planet better day-by-day, person-by-person, drop-by-drop."
1Love.org and the Marley Family will soon announce new projects to help provide relief and support to the urgent food crisis in the Horn of Africa as well as a special Marley Mission to help build a new classroom in Uganda. Join the movement and take action at 1Love.org or via Facebook.