Australian superstar Delta Goodrem will give one of her first U.S. performances at the Greater Bay Area Make-A-Wish Foundation's 2011 Monterey Bay Gala next month.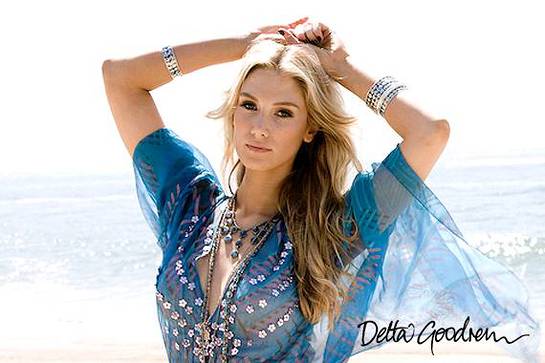 The event is being hosted at Clint and Dina Eastwood's Tehama Golf Club. Dina is a co-chair of the event organizing committee, and the Eastwoods have supported the Greater Bay Area Make-A-Wish Foundation by hosting this event for many years.
In its 11th year, this is the most talked about event on the Monterey Peninsula! Plan on another extraordinary evening as this year's theme What Happens at Tehama, Stays at Tehama: Vegas, Then & Now unfolds.
26-year-old Australian Delta Goodrem exploded onto the musical scene at age 18 with her debut album, Innocent Eyes. The album, which has sold over 4 million copies worldwide, spent a record-breaking 29 weeks at No.1 in Australia and climbed to No.2 in the UK. In the process it also notched up an unprecedented five consecutive Number 1 singles.
Make-A-Wish is an organization that is close to Delta's heart. In 2003 she was diagnosed with Hodgkin's Lymphoma, from which she has now recovered.
Fresh from TV appearances with Michael Bolton on Dancing with the Stars and The Today Show (and currently writing an album due out later this year), this is a unique opportunity for an intimate evening with an Australian superstar who was recently awarded the "Artist Of The Decade" in her home country.
This event's Live Auction historically features exclusive, VIP items – and this year is no exception! Here's just a sneak peek at some of the Live items going under the hammer from October 17:
Super-rare guitar autographed by all five Rolling Stones

VIP

trip for two to the Monaco Grand Prix
Two tickets to the premiere of Clint Eastwood's newest film, J. Edgar
High end magnum wine collection
Masters' golf experience for two
Sommelier and Chef's Dinner for 16
Dancing with the Stars semi-finals performance

VIP

tickets for two
To find out more about the event, which takes place on October 22 at the Tehama Golf Club in Carmel, California, click here.