Miley Cyrus has joined the Starkey Hearing Foundation in Haiti for a return visit to bring the gift of hearing to children and adults in need in Port au Prince and surrounding areas.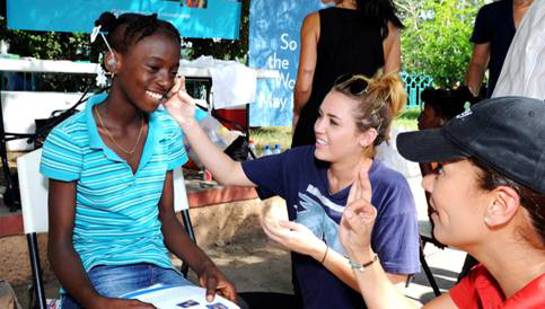 Miley Cyrus joins the Starkey Hearing Foundation in Haiti to bring the gift of hearing to adults and children in need.
With the help of Haitian President Michel Martelly, Cyrus assisted in the distribution and fitting of state-of-the-art hearing aids to more than 400 Haitians who have become or remained hearing impaired since the island's devastating 2010 earthquake.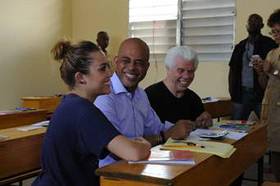 Miley Cyrus with Haitian President Michel Martelly and Bill Austin, Founder of Starkey Hearing Foundation during her second trip to Haiti with the Foundation.
The visit was made possible by Cyrus, after making a generous donation during the Foundation's So The World May Hear Awards Gala held on Sunday, July 24, 2011. During the event's silent auction, Miley won a bid on a second hearing mission to Haiti, following her first mission there in March 2011. In addition to Miley's generous contribution to making the mission possible, the Starkey Hearing Foundation is also working with Randy Mortensen from World Wide Village, a non-profit organization, as well as Digicel, which is helping to facilitate transportation and security needs during the mission.
Miley's March visit to Haiti was her first introduction to the Starkey Hearing Foundation. After seeing the organization's work first-hand in helping children hear – many for the very first time, she quickly agreed to become involved in the Foundation's Listen Carefully campaign.
Launched in April, the message of the Listen Carefully campaign, stresses a clear message – "your hearing is fragile, so don't listen loudly, listen carefully." Cyrus appeared in a series of public service ads on behalf of the campaign, and also utilized her Get Your Good On Facebook page to reach fans with the message.
"After I went on my first mission to Haiti with the Starkey Hearing Foundation, I felt so drawn to helping others hear for the first time and immediately wanted to look for another chance to go back and help again," said Cyrus. "This second mission to Haiti was just as impactful to me as the first one. I grew up around music and couldn't imagine what it would be like for my siblings and me, if we couldn't hear the magic of music. It's had such an influence on my life, that I just want everyone to enjoy sound as it was intended."
The mission of the Starkey Hearing Foundation is to foster greater understanding among people through hearing care by focusing on awareness, education, protection and treatment so the world may hear. The Starkey Hearing Foundation conducts hearing missions throughout the year both domestically and internationally, distributing thousands of hearing aids annually to those who need them. In addition, recipients are provided with a generous supply of batteries, testing and counseling on how to use and maintain their new hearing aids.
Photos: Starkey Hearing Foundation