By Allison DiLiberto on
Tonight at 7PM, supporters of The Hole in the Wall Gang Camp, will gather for the 2nd Annual Jam For The Kids! at Manhattan's Hiro Ballroom, located within The Maritime Hotel, for a full night of funky New Orleans style music, featuring Papa Grows Funk, with special guests Brother Joscephus & the Love Revival Revolution Orchestra and Charlie Dane.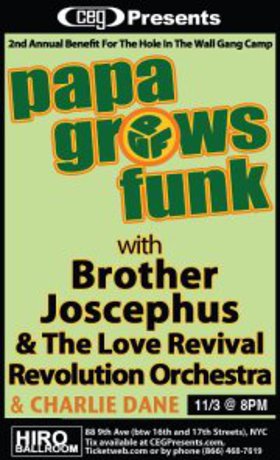 Founded in 1988 by Paul Newman, The Hole in the Wall Gang Camp, located in Ashford, CT, is a nonprofit, year-round center serving children and their families coping with cancer, sickle cell anemia, HIV/AIDS, hemophilia and other serious and life-threatening illnesses. Proceeds from this event will go to support summer camp sessions for the children, so they can enjoy more than they or their parents ever thought possible and experience the joy of camp free of charge.
The Hiro Ballroom is located on 9th Avenue between 16th and 17th Streets. Doors open at 7PM. Showtime is from 8PM-1AM. Tickets can be either bought online or at the venue. Please come and support this great cause, while getting down to a night of fun-filled New Orleans funk!