Bridget Moynahan, actress and star of CBS drama Blue Bloods, made a surprise visit to P10X at 817, an elementary school in Bronx, NY on Friday to deliver $1,000 worth of school supplies and an award to an unsuspecting teacher in support of OfficeMax's national "A Day Made Better" cause.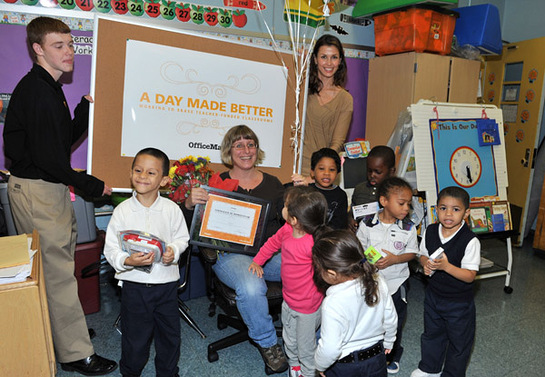 Bridget surprised the winning teacher, Ms. Nancy Rice, with new school supplies from OfficeMax including a printer, digital camera, desk chair and essential materials. The surprise and donation serve as a thanks to the winning teacher for going above and beyond the call of duty to deliver the best possible education for the students and encourage support for teachers throughout the community.
"I'm so honored to support the A Day Made Better cause and help give back to deserving teachers like Ms. Rice, who go above and beyond the call of duty to provide the best possible education for their students. Today's event was really special, getting to surprise Ms. Rice with new school supplies and honor her for her contributions as a teacher."
Because teachers spend $1,000 out-of-pocket annually on essential classroom supplies, OfficeMax and Adopt-A-Classroom founded "A Day Made Better" to lead the fight to end teacher-funded classrooms. On October 4, 1,000 teachers across the nation received surprise deliveries of school supplies from OfficeMax worth a total of $1 million dollars. Winning teachers were nominated for this award by their principals for demonstrating passion, dedication and innovation in the classroom. Learn more about the cause at adaymadebetter.com or honor your own teacher with a surprise box of school supplies available at adoptaclassroom.org/better.
Since October 2007, OfficeMax's "A Day Made Better" and its nonprofit partner Adopt-A-Classroom have funded more than 5,500 classrooms with more than $5.5 Million worth of school supplies from OfficeMax and helped secure funding for more than 68,000 classrooms through donations to Adopt-A-Classroom.