Austin Recovery, the largest and most affordable drug and alcohol treatment center in Texas, hosted its first Artists on Recovery fundraiser luncheon at Austin City Limits Live at The Moody Theater earlier this month. The event featured NBC's "Parks and Recreation" star Rob Lowe as its keynote speaker.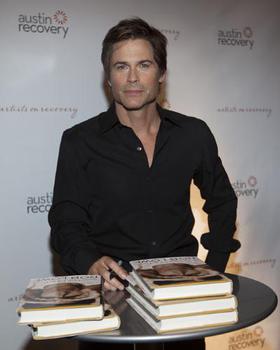 Lowe, who is also known for his roles on "The Outsiders," "St. Elmo's Fire," "Wayne's World," "The West Wing" and numerous other films and programs, spoke about the positive impact sobriety has made on his own life, as well as that of his family. At the closure of the event, Lowe also signed copies of his recently released memoir, "Stories I Only Tell My Friends," for event sponsors and key donors.
"This community proved today how much they value giving struggling families a chance," Lowe said. "I was honored to be a part of such an inspiring event."
The luncheon's proceeds, which totaled more than $800,000 in ticket sales and donations, will go toward the construction and operation of Austin Recovery's new Family House facility. The facility will offer a unique and highly-specialized program that allows mothers to bring their children with them into residential treatment. This program aims to keep families together – bonds between mother and child are created and strengthened in an environment free of addiction.
"We couldn't be more thrilled about the number of donations and turnout today," said Jonathan Ross, Austin Recovery CEO. "This is a great beginning to a new life for the many of mothers and children whose lives will be forever changed by Family House."
Designed by Austin-based Sixthriver Architects, the 21,000 square foot Family House facility will be one-of-a-kind in the nation, providing family-friendly living quarters for mothers and children to stay together, multiple purpose-built play areas, a family style dining hall and a group counseling space. The program at Family House will offer special forms of therapy for the children, allowing them the opportunity to heal through their mother's recovery process. Without this option, many addict mothers could face losing their children. In 2009, an estimated 22.5 million people (8.9 percent of the total U.S. population aged 12 or older) were classified with substance dependence or abuse in the past year based on criteria specified in the Diagnostic and Statistical Manual of Mental Disorders, 4th edition (DSMIV).
"This inspiring fundraiser and Rob Lowe's speech hit a cord with many of our attendees today," said Ross. "Many either have battled their own struggle or have had a loved one fall into the hardships of addiction; they know all too well the harmful toll drug and alcohol addiction can take on a family."
With more than 800 guests, attendees included Mayor Lee Leffingwell, State Representative Donna Howard, Steve Hicks and Donna Stockton Hicks, and representatives from Whole Foods Market. Platinum sponsors included Benchmark Recovery Center, Communities in Recovery and the MAXIMUS Foundation.