Rock legend Nikki Sixx – best-selling author and host of the nationally syndicated Sixx Sense with Nikki Sixx and The Side Show Countdown with Nikki Sixx radio programs – and his radio co-host Kerri Kasem visited with wounded warriors at the Fisher Houses and Center for the Intrepid on Wednesday, November 16, during a trip to the Brooke Army Medical Center campus.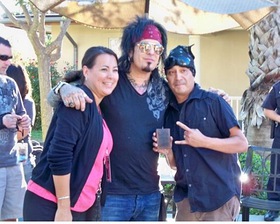 "Kerri and I left feeling inspired and motivated, and have set the wheels in motion to come back and help raise money through Sixx Sense for Fisher House and Center for the Intrepid," Sixx stated. Photos of his visit can be viewed on the website for Sixx Sense's local San Antonio affiliate 104.5 KZEP. Sixx Sense with Nikki Sixx can be heard weeknights on the station from 7 p.m. to midnight.
The integrated medical complex at Brooke Army Medical Center consists of the Center for the Intrepid, a $60 million physical rehabilitation facility funded and built by the Intrepid Fallen Heroes Fund, and four Fisher Houses, built by the Fisher House Foundation. The entire complex was opened in 2007.
Sixx's radio programs are syndicated by Premiere Networks, a subsidiary of Clear Channel Communications, which recently raised more than $700,000 for Fisher House Foundation as part of a nationwide week-long campaign that culminated in a radio fundraiser on Veterans Day, November 11.
Fisher House Foundation is best known for the network of comfort homes built on the grounds of major military and VA medical centers. The Fisher Houses are 5,000 to 16,800 square-foot homes, donated to the military and Department of Veterans Affairs, where families can stay while a loved one is receiving treatment. Additionally, the Foundation ensures that families of service men and women wounded in Iraq or Afghanistan are not burdened with unnecessary expense during a time of crisis.
Located in close proximity to the medical center or hospital it serves, each Fisher House consists of between 8 and 21 suites, with private bedrooms and baths. Families share a common kitchen, laundry facilities, spacious dining room and an inviting living room with a library and toys for children. Fisher House Foundation ensures that there is no fee to stay in a Fisher House. Since inception, the program has saved military and veteran families an estimated $165 million in out of pocket costs for lodging and transportation.
Fisher House Foundation operates the Hero Miles Program, using donated frequent flyer miles to bring family members to the bedside of injured service members. To date, Hero Miles has provided over 25,000 airline tickets to our military and their families. The Foundation also manages a grant program that supports other military charities and scholarship funds for military children, spouses and children of fallen and disabled veterans.