The Flawless Foundation celebrated the holidays with An Evening of Gratitude charity shopping event at Fred Segal's ZeroMinusPlus on December 8th featuring Gratitude Designs by Tara Dixon.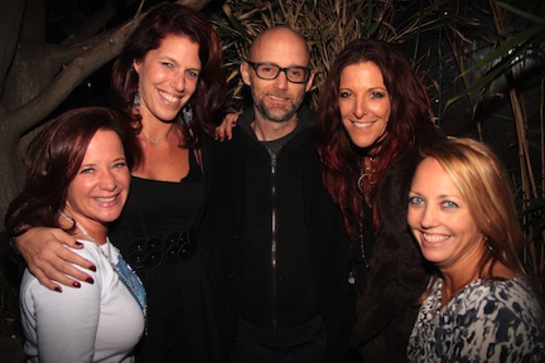 More than 150 guests attended this exclusive evening emceed by Kaci Christian. The event was followed by an after-party hosted by Debi Mae West at 31ten Lounge in Santa Monica. Special guests for the evening included: musician Moby, actor Sheila Kelley, Regena Thomashauer (Mama Gena), producer Steve Truitt, gallery owner Louis Stern, Debra Granfield, Michael Rich and the President of the Board of Directors of NAMI Sharon Dunas, among others.
"The Flawless Foundation and its work to destigmatize mental health issues is a remarkable cause" said Moby.
Sales and donations were strong throughout the evening with a significant amount of funds raised for the Flawless Foundation to expand services in to the Los Angeles Area. An Evening of Gratitude at ZeroMinusPlus featured Gratitude Designs By Tara Dixon, a line of gift cards, Gratitude journals and a series of signed reproductions of the original Gratitude paintings by this Brooklyn-based artist. Gratitude Designs by Tara Dixon graciously gives back 5% of all profits to The Flawless Foundation. In addition, ZeroMinusPlus at Fred Segal, donated 10% of all sales for the evening. All donations up to 25 thousand dollars made to The Foundation will be matched two-fold by Flawless Foundation board member & philanthropic activist, Robin Janis.
"We were extremely happy with the enthusiasm, interest and excitement generated by our Evening of Gratitude," states Janine Francolini, Founder of the Flawless Foundation. "We believe that there is perfection within every child. By recognizing this in children with brain differences and providing them with love, compassion and respect, we are most effective in bringing hope and healing to the world and change the face of our very important cause".
The Flawless Foundation creates and supports programs that advocate and improve the quality of care for children living with mental health and neuro-developmental challenges. The Flawless Foundation Host Committee for this event included: Agapi Stassinopoulos, Heide Banks, Lisa Sharkey, Chevonne O'Shaughnessy, Brian Herskowitz and Gina Hecht, Debra Granfield and Michael Rich, Chris Burch, Regena Thomashauer, Sheila Kelley and Richard Schiff. Other supporters of the foundation include: the Honorable Patrick Kennedy, Dan Zanes, Darryl Strawberry, Curt & Shonda Schilling and Karenna Gore Schiff, among others.