New non-profit get REAL for kids has announced that actress Selma Blair has joined the get REAL Revolution designed to change the way parents feed their children, treat children's illnesses, and parent.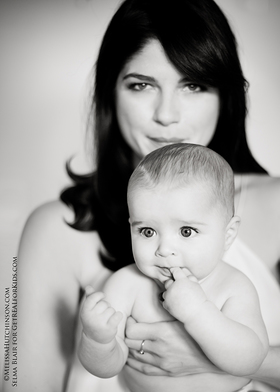 To announce Blair's support of the mission, getREALforkids.com released new photos of Blair with her six month old son Arthur Saint Bleick, her first child. (Photography by Melissa Hutchinson)
"As a mom I want the very best for my son Saint and get REAL for kids makes it easy with practical advice on how and why we should feed our children local organic foods, heal our kids from the inside out, and parent in a way that allows them to thrive," said Blair. "Celebrity moms have a wonderful opportunity to set an example for how to get REAL for kids. I hope other celebrity parents will join me in sharing and supporting this wonderful resource and get REAL with their own children."
The announcement coincides with the launch of get REAL for Kids, a non-profit organization created by nourishMD founders holistic pediatrician Dr. Sue McCreadie, MD, and holistic health and parenting coach Angelle Batten, MEd.
"Our children are bombarded with fake food choices everywhere – at school, at church, even at the bank. It's becoming increasingly difficult to navigate our children to health and happiness when they are consuming ingredients that will increase their chances of becoming obese, diabetic, or developing cancer or other diseases someday," said Batten. "We know that just a few small changes can transform your child's health and happiness. Our goal at get REAL for kids™ is to turn millions of children around to health and happiness so they can live their best life and, in turn, make the world a better place for everyone."
"It's heartbreaking to see so many children on daily medications these days – for allergies, for attention issues, for mood problems, for high cholesterol and diabetes, or just to go to sleep and stay asleep," said Dr. McCreadie. "Clearly, we must be missing the BIG picture for so many children to be dependent on daily medications to function. get REAL for kids™ has some powerful tools that can help and with the launch of our new website we have an exciting new way to share them."
The get REAL for kids non-profit organization will help parents get REAL with food, health and parenting by:
Raising Awareness with the get

REAL

Revolution on how the decisions parents make every day around food, health and parenting affect their child's health and happiness.
Giving Back through the get

REAL

and Give Back Charity which provides education and resources on food, health and parenting. The organization plans to use contributions to launch the Planting Seeds for Health and Happiness Program that will provide school communities with food, health, and parenting education kits and the resources to build an organic school garden.
The foundation of get REAL for kids is REAL Food, REAL Health, and REAL Parenting:
REAL

Food –

REAL

food is food as nature intended: local, organic, and non-processed.

REAL

Health –

REAL

health is

REAL

balance – not the absence of disease.

REAL

Parenting –

REAL

parenting is creating conditions for your child to be the best version of himself.
For more information about get REAL for kids, visit their website, Facebook page, or Twitter.