The Trevor Project's new life-saving, life-affirming public service announcement featuring Daniel Radcliffe has premiered on FOX during the network's hit series "Glee."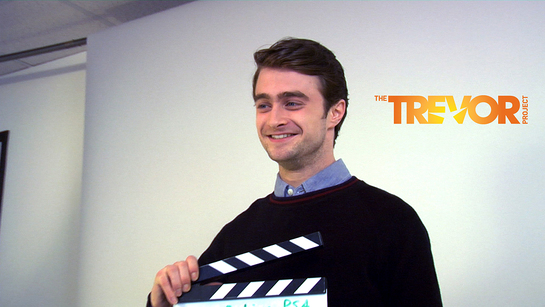 The 30-second spot, which aired at no cost to the organization, empowers young people who are lesbian, gay, bisexual, transgender or questioning (LGBTQ) to call the Trevor Lifeline if they need support or are considering suicide. The spot will also run on Hulu in conjunction with this episode of "Glee."
"We are very excited to premiere this life-saving PSA featuring Daniel Radcliffe during prime time on one of the most popular shows on television," said David McFarland, Interim Executive Director and CEO of The Trevor Project. "The opportunity to reach millions of LGBTQ youth, their families and friends during a show like 'Glee' with a message to reinforce that it is okay to reach out for help when you need it can truly help save lives."
This is Radcliffe's second PSA for The Trevor Project's cornerstone life-saving program, the Trevor Lifeline. The actor, who currently stars in THE WOMAN IN BLACK, has been involved with The Trevor Project since 2009, dedicating much of his public support to raising awareness for the 24/7 free and confidential Trevor Lifeline for LGBTQ youth in crisis. He was recently honored by the organization as a Trevor Hero at Trevor Live in New York City in June.
"My work with The Trevor Project has taught me that the best thing I can do as a straight ally is show my support of lesbian, gay, bisexual and transgender people. When we let someone know that we accept them for who they are and that we are safe to talk to, we can help save lives. It's as simple as that," said Daniel Radcliffe, actor and supporter of The Trevor Project.
The PSA, which empowers youth in crisis to reach out for help and to call the Trevor Lifeline (1-866-488-7386) was produced by Emmett Loverde, a Los Angeles-based writer-director and cinematographer known for his work on such projects as TRU LOVED (2008), the series FREE ADVICE, and the forthcoming TILL YOU GET TO BARABOO.
You can watch the PSA here.