Grammy Award-winning band Train is gearing up for the group's San Francisco 2012 Tour, a special hometown run of club shows, in expectation of the upcoming album CALIFORNIA 37, out April 17 on Columbia Records.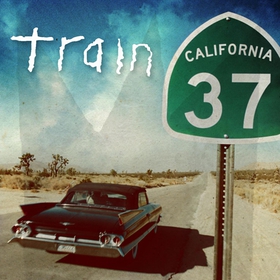 The band – featuring singer Patrick Monahan – kicks off six intimate performances in San Francisco starting April 10 at Cafe Du Nord and finishing up April 15 at the Fillmore. A portion of the ticket sales proceeds will go to the San Francisco charity Family House, which provides temporary housing to families of seriously ill children. Train referenced their commitment to the Bay area and their fans where they began their illustrious career in 2009's multiplatinum album, SAVE ME, SAN FRANCISCO.
The first single from CALIFORNIA 37, "Drive By," continues to climb the radio charts and has already entered the Top 10 at both the AAA and HOT AC formats. It is also charting at Top 40 and moving up quickly. "Drive By" has sold over 200,000 singles since its release in January. The "Drive By" video premiered on VH1 on February 18 and has gone into rotation there and with support from VEVO. Internationally "Drive By" has been embraced in the UK, Canada, Japan, France, Australia, Denmark, Germany, Hungary, Netherlands, Switzerland and other countries.
Train is heading to the premiere NASCAR event, the Daytona 500, on February 26 when lead singer Pat Monahan will perform the national anthem before thousands of fans live and millions watching on television. The Daytona 500 will air at 1:00pm EST on Fox.
The multiplatinum band TRAIN made its mark on music history with their GRAMMY-Award-winning song "Drops of Jupiter (Tell Me)" and chart-topping singles "Meet Virginia" and "Calling All Angels." Train earned their third GRAMMY in 2011 for the worldwide smash "Hey Soul Sister" from SAVE ME, SAN FRANCISCO. "Hey Soul Sister" was the biggest selling single of 2010 and hit #1 at radio in the US and in 15 countries abroad. SAVE ME, SAN FRANCISCO has sold over one million albums worldwide and over ten million tracks.
TRAIN PRESENTS THE SAN FRANCISCO TOUR
APR 10 – Cafe Du Nord

APR 11 – Great American Music Hall

APR 12 – Bimbo's

APR 13- Slim's

APR 14 – Independent

APR 15 – Fillmore