The Prostate Cancer Foundation (PCF) 27th Annual New York Dinner took place at Restaurant Daniel in New York City, raising over $3 million to support its research programs.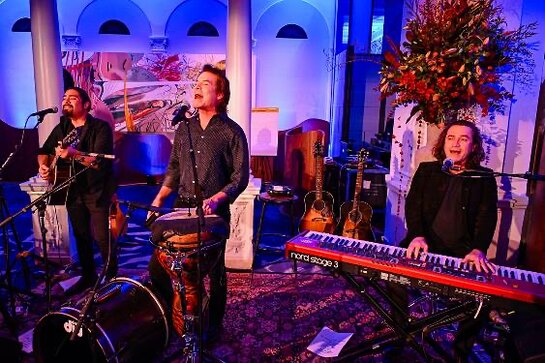 The end-of-the-year benefit supported PCF's programs and celebrated the millions raised and achievements made in the past thirty years through the Prostate Cancer Foundation. The charitable organization founded by Michael Milken is dedicated to identifying and funding groundbreaking cancer research programs.
The memorable evening welcomed leaders in medicine, top research scientists, and distinguished New York City socialites. The gala began with a lively cocktail reception and the lavish dinner party with Master Mentalist Oz Perelman gave way to a special musical performance from Pat Monahan and Train.
Michael Milken and Charles Ryan's update on the work of the Foundation encompassed the on-going work of the PCF's which aims to help develop new therapies against the most life-threatening forms of prostate cancer.
Notable attendees included: Michael Milken, Charles Ryan, Daniel Boulud, Master Mentalist Oz Perelman, Special Musical Performer Pat Monahan and TRAIN, Todd Boehly, Bill Mack, Phyllis Mack, Darius Bikoff, Jill Bikoff, Larry Leeds, Ginger Leeds, John Paulson, Neil De Feo, Igor Tulchinsky, Gina Carithers, Daria Barry and Bonnie Pfeifer Evans.
Oz Perelman's unique blend of mentalism and mind-reading create an interactive experience that redefines the very nature of a magic show. Oz has appeared on a variety of both national and international networks including NBC's Late Night with Jimmy Fallon, The TODAY Show & ABC World News plus has been profiled in Forbes and The New York Times, to name a few.