By Abhishek Seth on
Grammy award-winning R&B singer Estelle raised over $25,000 for her youth-dedicated All of Me Foundation this month.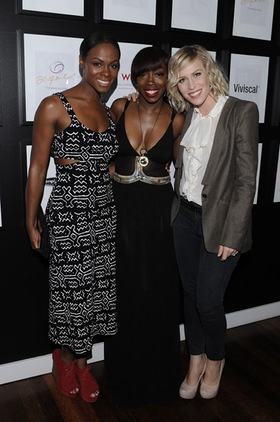 The All of Me Style & Beauty Lounge, which was held the evening before the 2012 Grammy Awards, was graced by Kim Porter, Tika Sumptor and Natasha Bedingfield.
The private afternoon of beauty and spa treatments — hosted by Estelle herself and Give Back Hollywood — raised enough money for All of Me Foundation to establish an international mentorship program, uniting students from London, New York and Los Angeles.
The party took place at the W Hollywood complex, in a grandiose luxury suite in the Residences. There, Estelle and her friends got to experience the new line of Inspiration headphones, eat tons of red-velvet cupcakes, and learn more about Viviscal, a hair-loss natural dietary supplement.
Estelle's hairdresser Elgin Charles also came. During the event, he styled guests' hair, while the whole posse savored bowl after bowl of Wonderful Pistachios!