In an effort to raise awareness about maternal and child health, Texas Children's Hospital and Every Mother Counts (EMC) teamed up last night, March 1, for a very special one-night event hosted by global maternal health advocate and founder of EMC, Christy Turlington Burns.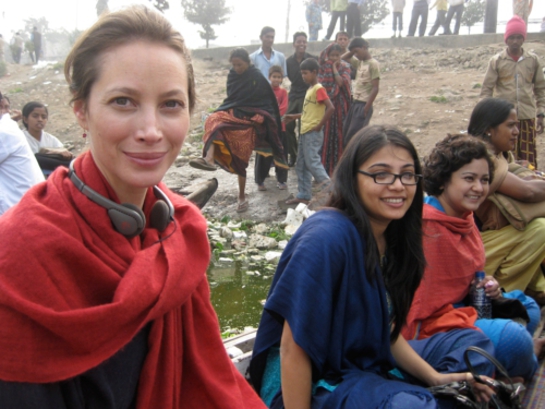 The evening included a reception screening of Turlington Burns' first documentary, No Woman, No Cry, and a Q&A session with Dr. Mark W. Kline, physician-in-chief at Texas Children's Hospital, chair of pediatrics at Baylor College of Medicine and founder of the Baylor International Pediatric AIDS Initiative, Dr. Michael A. Belfort, obstetrician and gynecologist-in-chief at Texas Children's Hospital and professor and chairman of the Department of Obstetrics at Baylor College of Medicine and Christy Turlington Burns. Special guests attending the event included Miss Universe 2011 and Miss Angola Leila Lopes, and Miss Teen USA 2011 and Miss Texas Danielle Doty.
The event, which took place at Houston's Sundance Cinema, drives home a message that is a major focus for the hospital. Texas Children's Global Health Initiative is dedicated to addressing major causes of maternal and child morbidity and mortality globally. It provides screening, treatment and education to positively impact critical global health issues affecting children and families such as HIV/AIDS, sickle cell disease, malaria, tuberculosis, malnutrition, cancer and maternal health.
"We believe it is our moral obligation to create programs that can literally change the world by positively impacting the health of children and families and Every Mother Counts shares our beliefs and goals," said Dr. Kline. "Together, we can do much to raise awareness about the need for improved maternal health and move forward establishing models and standards of care, reducing the needless loss of life in childbirth globally."
An advocacy and mobilization campaign to increase education and funding for maternal and child health, EMC supports the achievement of MDG 5, one of the United Nations' Millennium Development Goals (MDGs) established in 2000, which strives to reduce the global rates of maternal mortality by three-fourths by 2015. Of all the goals laid out in the MDG summit, MDG 5 has shown the least progress. According to the World Health Organization, 1,000 women around the world die every day from complications during pregnancy or childbirth that in most cases could have been prevented with basic healthcare.
Turlington Burns, who is currently pursuing a Masters in Public Health at Columbia University's Mailman School, was inspired to create the EMC campaign in part due to her personal experience with a complication following child birth.
"After delivering my first child, I endured a childbirth complication called postpartum hemorrhage, which is often life-threatening. I survived because I had access to a qualified team of health workers, including a doula, midwife and OB," said Turlington Burns. "When I learned that a thousand mothers die each day, mostly in developing countries, from complications caused by pregnancy and childbirth because they did not have access to care I knew I needed to understand why, when a mother's life is so vital to the health and well being of her children, family, and community—no matter where she lives, do we not value every woman's life in the same way? It's not acceptable that women should have to risk their lives to give birth—especially when almost all of these deaths are preventable."
In an effort to garner wide-spread attention for this issue, Tulington Burns produced and directed No Woman, No Cry, an emotionally charged film that follows the stories of women in Tanzania, Bangladesh, Guatemala and the United States as they face critical junctures in their pregnancies. The documentary explores the barriers millions of women face when trying to access critical care throughout their pregnancies and while delivering, along with the often-simple solutions that could save their lives.