To help kick-off National Reading Month, actress Kate Beckinsale has teamed up with "The Nestlé Share the Joy of Reading Program" to raise awareness about the importance of children's literacy.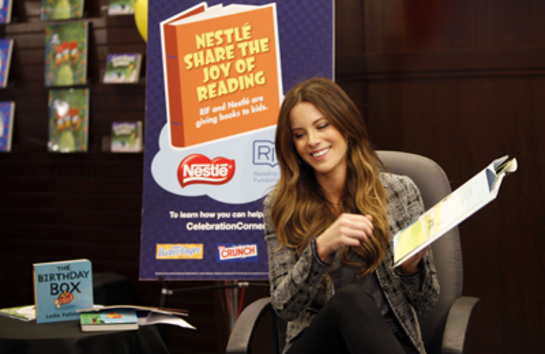 Last week she visited Barnes & Noble at The Grove in Los Angeles to read to young children and their families, and to talk about her love of reading. "The Nestlé Share the Joy of Reading Program" is donating up to $250,000 to Reading Is Fundamental (RIF) – the nation's largest nonprofit children's literacy organization – and consumers can help through everyday purchases of select Nestlé confections.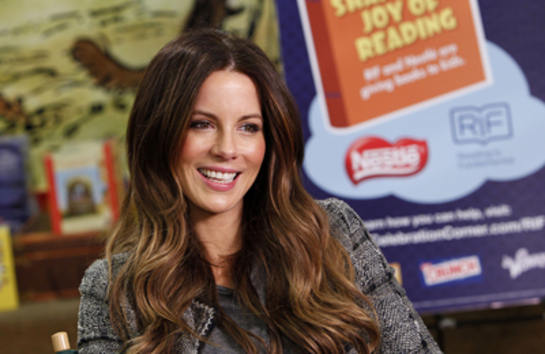 "As a mom and a big reader, I am excited to be participating in 'The Nestlé Share the Joy of Reading Program' to benefit Reading Is Fundamental," said Kate Beckinsale. "Reading has had an enormous, positive impact on my life and I encourage people to support organizations such as RIF that work to ignite a child's hunger for knowledge and inspire imagination. I can't think of a better time than National Reading Month to encourage everyone to read."
RIF provides books and literacy resources to more than four million children nationwide each year, but government budget cuts and the economic downturn have taken their toll on the invaluable services the organization provides. RIF lost its federal funding in the last budget cycle and is now awaiting word on whether funding will be rewarded through a new grant process.
The loss of federal support would have a critical impact on children and families nationwide. Now more than ever, it is important to give back to programs that are dedicated to supporting underserved children and their families.
In 2011, RIF provided more than 15 million books to children to keep as their own, but poverty levels have hit a record high of 46 million and there are millions more children who are still in need of literary resources. Studies show that:
Poverty is the single best predictor of a child's failure to achieve in school, and about half of children from low-income communities start first grade up to two years behind their peers
61% of low-income families in the U.S. have no books in their homes
80% of preschools and after-school programs serving low-income populations have no age-appropriate books for their children
23% of public school fourth graders score below basic levels on reading exams. Increasing access to print material is the most successful way to improve the reading achievement of low-income children
45% of children ages 3-5 do not and are not read to daily. Studies show that children whose parents read to them become better readers and perform better in school
As a company, Nestlé USA has a long standing history of supporting programs that benefit education and has a corporate culture that values giving back to the community. For nearly 20 years, Nestlé has supported RIF by donating more than $5 million, which has helped hundreds of thousands of children to date.
Find out more here.