The Kyle Petty Charity Ride Across America has announced the course for its April 28 – May 4 cross-country motorcycle trek.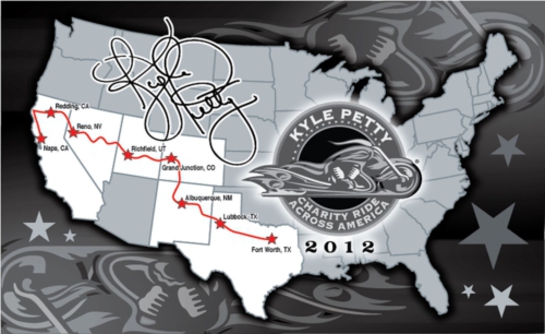 More than 175 riders will join the 18th anniversary ride beginning in Napa, Calif., and travel over 2,500 miles before finishing at the Texas Motor Speedway in Fort Worth, Texas. Founded by former NASCAR Sprint Cup driver Kyle Petty, the Charity Ride raises funds and awareness for the Victory Junction Gang, a camp created to benefit children with chronic or life threatening illnesses.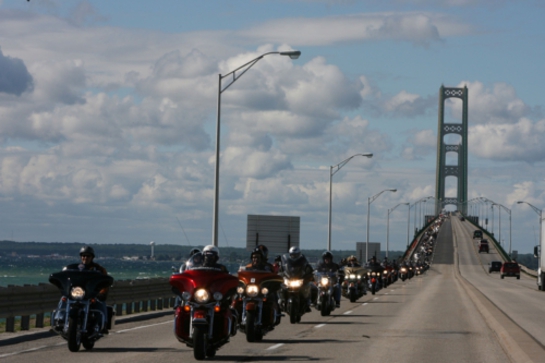 "We started this ride as a small group of friends just riding from track to track," said Kyle Petty, who currently serves as a NASCAR television analyst for SPEED, Showtime and TNT. "It's amazing to see how this event has grown – seven days of beautiful riding with more than 175 riders helping to send hundreds of kids to Victory Junction."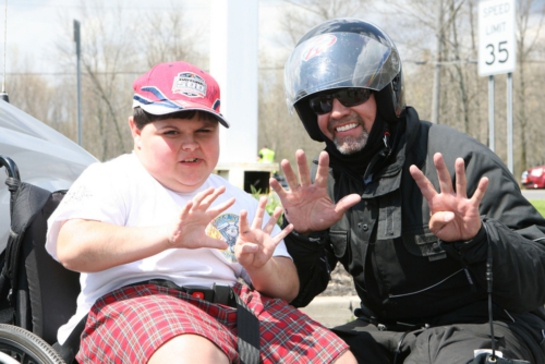 In 2012, for the first time riders will pass among the sprawling redwood forests of California and travel both "The Loneliest Road in America" (U.S. Highway 50) and "The Million Dollar Highway" (U.S. Route 550). In addition to 25 planned fuel stops, the 2012 Charity Ride route will make overnight visits in Redding, Calif.; Reno, Nev.; Richfield, Utah; Grand Junction, Colo.; Albuquerque, N.M.; and Lubbock, Texas.
Two-time Daytona 500 winner (2009, 2012) Matt Kenseth, former NFL great and Heisman Trophy winner Herschel Walker, Texas Motor Speedway President and General Manager Eddie Gossage, NASCAR legend Harry Gant and former NBA star and NASCAR team owner Brad Daugherty also plan to participate for all (or part) of this year's ride.
"The Kyle Petty Charity Ride makes a real difference in children's lives," said Walker, who's participating in his seventh event in 2012. "It's not only the kids we visit with along the route, it's the donations that help sponsor thousands of trips to Victory Junction that make this ride so special."
Past notable riders include Robin Pemberton, Vice President of Competition, NASCAR; 2011 NASCAR Sprint Cup Champion Tony Stewart; NASCAR drivers Michael Waltrip, Geoff Bodine, Steve Park, and Kenny Schrader; supermodel Niki Taylor; PGA golfer Davis Love III; Orange County Chopper co-founder Paul Teutul Sr., among others. Since 1995, more than 7,000 riders have logged 10.1 million cumulative miles alongside Petty and donated more than $14.5 million to primary beneficiary Victory Junction and other charities that support chronically ill children.
A year-round camp, Victory Junction was founded by the Petty family to enrich the lives of children with chronic or life-threatening illnesses by creating experiences that are memorable, empowering, and physically safe and medically sound. The Randleman, N.C., camp was founded by the Pettys to honor their late son Adam; since opening its doors in 2004, Victory Junction has been the Charity Ride's primary beneficiary.
In the last eight years, more than 7,350 children with health issues that would typically prevent them from attending camp have attended Victory Junction at no charge thanks to the Kyle Petty Charity Ride. Construction of a second facility is currently under way in Kansas City, Kan.
Fans and spectators along the Charity Ride route can contribute through the "Small Change. Big Impact." program, which accepts donations at the Ride's pit stop locations. The public can also make a $10 donation by texting RIDE to 27722. Reply to the confirmation text with the word YES to confirm the donation, and $10 will appear on the user's wireless bill or will be deducted from a prepaid balance. Online donations are also accepted here.
Find out more here.