Starkey Hearing Foundation and Scholastic joined more than 1,400 students and teachers this week at Central Middle School in Eden Prairie, Minn. for an educational assembly to mark the launch of Listen Carefully – a national hearing awareness campaign that promotes one simple message: Hearing is fragile. So don't listen loudly. Listen carefully.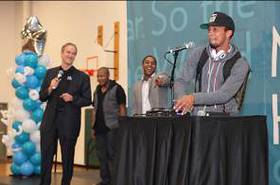 During the assembly, students were treated to special presentations from songwriter and producer Dallas Austin and Disney and Nickelodeon stars Chris and Kyle Massey. Austin mixed beats on his Beat Thang beat machine, while the Massey brothers entertained the crowd with their hip dance moves. Creating an interactive learning experience, numerous students also participated in on-stage activities, including a dance competition.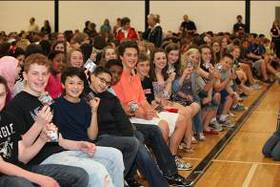 Students and teachers also took part in demonstrations on better hearing techniques. Special guest Dr. Dave Fabry, Starkey Hearing Technologies, led the demonstrations, which included a hearing loss simulation to show students how music would sound to a person with a hearing impairment.
"There are a growing number of young people in our nation that are experiencing hearing loss because they play music and video games at dangerously high volume levels," said Bill Austin, Founder of Starkey Hearing Foundation. "This is why we developed Listen Carefully and why yesterday's event was important in marking our commitment to reach young people nationwide and their teachers with the Listen Carefully message."
The partnership between Starkey Hearing Foundation and Scholastic was established in order to reach the hundreds of thousands of young people nationwide at risk for hearing loss. Both entities teamed up to create the Listen Carefully classroom poster and teaching guide to teach students in grades 6 and 8 about the science of hearing while also allowing them to perform hearing-related experiments. The kit also includes an English Language Arts (ELA) activity that integrates sound and onomatopoeia (words that imitate the sounds they describe). More than 7,000 teachers in Nashville, Los Angeles, Austin, Atlanta, Oakland and Minneapolis – St. Paul have already received the physical materials, and teachers nationwide will have online access to download the materials for free at www.scholastic.com/listencarefully.
According to Starkey Hearing Foundation, loud sounds such as music pumping through headphones and ear buds at too high a volume, have the ability to destroy the tiny hair cells in the inner ear over time. These tiny hair cells are essential in converting sound waves into messages and nerve impulses that are sent to the brain as sounds. If just 30 percent of these hair cells are damaged or destroyed, one will experience hearing loss.
For more information about Starkey Hearing Foundation, visit www.starkeyhearingfoundation.org. To learn more about Listen Carefully, visit www.scholastic.com/listencarefully.