In 1999, superstar Usher established the Usher's New Look Foundation to empower young people from under-served communities around the world. LookToTheStars.org is proud to share some of the stories of the kids he has helped.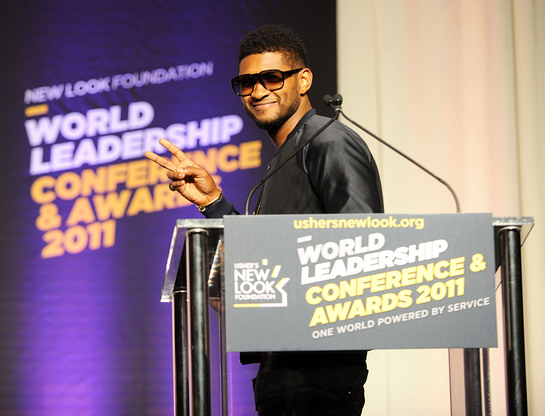 Since it was established, New Look has mentored over 10,000 young people through over 150,000 hours of training. It gives young people the tools they need to succeed, and gives them a "new look" on life.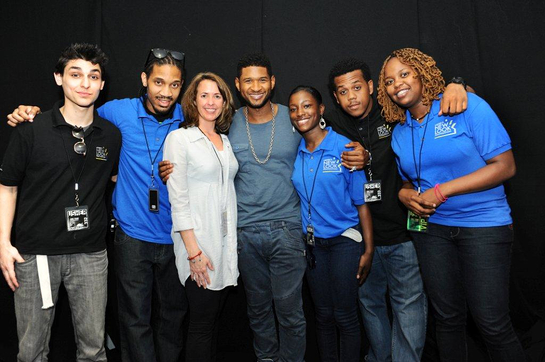 The foundation certifies youth in four leadership areas – talent, education, career and service. To do this, the charity runs several different programs, including Powered By Service – a peer-to-peer, youth empowerment, curriculum-based, leadership training program, youth around the world are certified as leaders – and the New Look Leadership Academy, which is aimed towards young people who are entering their freshman year and features a four year training program. For those who have completed the Leadership Academy, the Moguls in Training program offers young people the chance to continue their growth.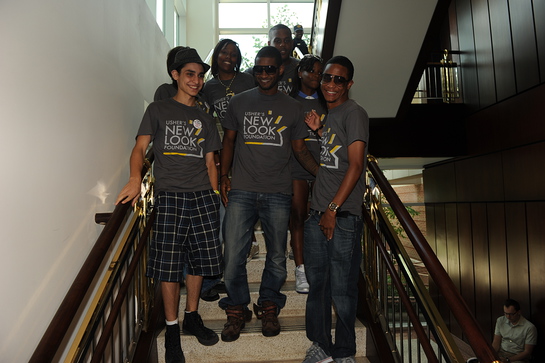 LookToTheStars.org recently found out about some of those young people Usher and New Look have helped, and who are members of the Moguls in Training program.
Tommy Springer, JR is from the Atlanta Chapter of New Look and is a sophomore at Georgia State University, majoring in film. Tommy is a strong leader within the Atlanta community and is a member of the

MIT

(Moguls In Training) program. Tommy is very talented in the music and video arena and has directed a world hunger public service announcement with Cartoon Network, worked on a documentary with Coca-Cola and has shot countless independent music videos. One of Tommy's greatest accomplishments was helping to direct the music video, "Hush," for Usher.
Most recently, Tommy traveled to South Africa for New Look's

PEACE

is Powered By Service initiative where he trained and certified nearly 180 Johannesburg youth as leaders.
Rashad Cain has been a part of New Look since 2005. He is a film major/music minor in his junior year at Georgia State University. As one of the original New Look participants, Rashad has seen the evolution of the New Look program and curriculum.
Rashad participated first as a camper, then a volunteer, and is currently a Mogul In Training. Rashad was one of the first New Look interns to work in the central office. That internship experience led him to various other internships with New Look partners including: the

NHL

All Star weekend in Atlanta in 2008, a New York internship at the

NHL

headquarters, and an internship with the Atlanta Dream during their inaugural season in the

WNBA

. As a result, Rashad gained employment with the Atlanta Hawks and Atlanta Braves, which he also attributes to New Look's support.
Outside of New Look, Rashad spends his time mentoring kids through the Student African American Brotherhood initiative. Upon graduation, Rashad plans to seek an

MBA

from the University Of Georgia, Terry College Of Business, to develop his vision of growing his music/entertainment company that he started with a fellow New-Looker in 2005.
Rashad attended the Clinton Global Initiative University along with five other New Look youth in March 2012. There he had an opportunity to discuss the importance of public service and topics of interest relevant to his community with President Clinton and Usher.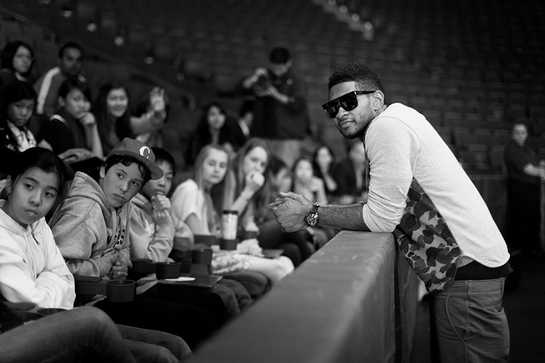 LookToTheStars.org also heard from some of the Youth Leaders currently working their way through the Leadership Academy.
Atlanta
Kamera Cobb is New Look Leadership Academy youth leader working towards her national certification. She entered the program as a high school sophomore in the summer of 2009 and has participated in numerous community outreach projects through the Academy, such as Books for Africa and Santa's Village.
Kamera gives credit to the Leadership Academy for helping her to find her "spark" in community service and is currently planning a Powered By Service project to provide aid to impoverished families in the Metro Atlanta Area.
Kamera will be graduating from Tucker High School with a 3.6

GPA

this upcoming May. Kamera will be attending Georgia State University to double- major in Mass Communications and Business.
Kamera recently participated in a Powered By Service training for New Look freshman, an experience she looks forward to continuing with the Foundation.
Justin Selgado, a member of the New Look Leadership Academy has a focus on education. With his New Look mentors, Justin got involved in a video production crew that developed a public service announcement about nutrition for the Cartoon Network. His love of technology grew, as did his interest in business, which gave him a new idea to start a cell phone exchange program at his high school. As students purchase new phones, Justin buys the old ones to resell. Investing his profits back into this new small business, he has been able to grow and create savings for the future. To give back, Justin is currently working on a Powered By Service project that will refurbish computers to then donate to families in need.
These experiences, and numerous others with his peers in the Leadership Academy, have broadened Justin's perspective about his future and put him on a solid path to graduate from Chamblee High School in 2012.
Through New Look, Justin has realized the importance of establishing goals – and taking the necessary steps to reach those goals. Beyond high school, he envisions himself to be a source of hope and help for others. Justin plans to serve our country in the Military and then enter a four-year university to study business.
Los Angeles
Kevin Johnson is a senior with a

GPA

of 3.56 at David Starr Jordan High School. Kevin is a second year member of the New Look Leadership Academy.
Kevin's talents are many: hip-hop artist, singer, actor, poet, and a great speaker. Kevin recently utilized his talents in an LA Powered by Service project where he
hosted and performed at an event to raise money to benefit an elementary school affected by budget cuts, specifically to support and maintain their arts program.
Kevin will be attending Northridge University pursuing a career as a neurosurgeon, with a minor in theater arts.
Kevin has given peers an opportunity to showcase their talents by starting an open-mic poetry slam at his school. Kevin continues to excel in every way he can – taking in as much knowledge along the way. Succeeding is a top priority for Kevin.
New York
Jeremy Dominguez is a student at Richard R. Green high school of teaching. Jeremy is a second year member of Usher's New Look Youth Leadership Academy and applied to New Look to work with people who have the same aspirations in taking a united front to change the community and even the world.
Jeremy is very committed to service within the community. He has raised money for charity, speaks at public events to create awareness of blood related diseases, and participates in fundraising walks such as the March of Dimes and the Make Strides Against Breast Cancer Walk. Jeremy was awarded the prestigious Humanitarian Award at his 8th grade graduation!
Jeremy is the Head Youth Organizer of the Pennies for Patients program and is also the President of the Pennies for Patient Youth Service Group at his school. Jeremy is passionate about becoming a public relations representative and also hopes to someday travel the world.
One of Jeremy's major goals is to have a great effect on some of the community issues people face today. Jeremy said, "If I were President, I would apply funds to non-profit organizations who support the abolishment of community issues we face everyday."
Milwaukee
Jakayla Dills is a senior at Rufus King High School and will be attending Tuskegee University in the fall of 2012. Jakayla is a talented trainer for New Look, and successfully lead the Powered by Service Tour in Rosemont, Illinois where 40 middle school students received local certification training. Jakayla plans on becoming a pediatrician after graduating high school. She is also very involved in community service projects such as initiating a Powered by Service project to bring awareness to racial discrimination in the Milwaukee community.
Jakayla recently returned from South Africa where she led, along with her New Look peers, an Education is Powered By Service training and certification for almost 200 South African youth.
Angellic Ross is a senior at Rufus King High School, Milwaukee and will be attending Northwestern University in the fall of 2012. Angellic serves as the senior Vice President of the National Honor Society and is an International Baccalaureate Candidate taking college-level courses. As a member of Usher's New Look, Angellic has taken a stand against the lack of arts in her community and started her own project dedicated to providing teens in Milwaukee with the opportunity to learn different acting techniques for free.
Angellic is an active member of her school's theater community and she starred as the lead in the student-written and directed play "

BFF

." Angellic 's work has been recognized in the school newspaper, The King's Page.
Angellic is heavily involved in the Milwaukee youth community. She is a junior program officer for Lead2Change, a member of Urban Underground, and a tutor at Summit Educational Association.
Most recently, Angellic attended the Clinton Global Initiative University (

CGI

U) in Washington, D.C. Angellic will be attending Northwestern University this fall.
Detroit
Myles Harlan is currently an eleventh grader at Grosse Pointe North High School. Myles has always been a passionate oboist, and as a result of New Look, he has felt confident enough to stand in front of various audiences of different demographics and perform with no holding back. Usher's New Look Foundation gives youth the tools and resources they need to succeed and through the program, Myles has continued to strive for success in orchestra – Myles recently auditioned and was accepted into the Detroit Youth Symphony's Orchestra as Principal Oboe; the Dearborn Youth Symphony as Principal Oboe; and the

CYE

Chamber Groups only oboist out of over 400 applicants.
In addition to Myles' passion for music, he has also been involved with other New Look youth in the creation of a short film called Bully "Betrayed Youth" which has had a powerful impact on a local and national level.
Through the New Look program, youth involved are given codenames and Myles' codename is "The Future." Myles has big dreams for the future and is looking forward to continuing his work with the Foundation.
Karolina Rejniak has been involved with Usher's New Look for the past two years. She has participated in the leadership training and has gained great tips on becoming a better leader, speaker and communicator. Through New Look, Karolina got involved in a Powered By Service project called "Princess Project." This event was created as a prom for Muslim girls who cannot attend the regular prom. The event was a huge success and Karolina learned the importance of hard work, commitment and dedication.
Karolina looks at her new friends at New Look as family and feels blessed to have been introduced to this organization.
There are many ways you can support Usher's New Look help the youth of today become tommorrow's leaders. To find out more, visit UshersNewLook.org