Tali Lennox, Alan Titchmarsh and TOWIE's Lydia Bright are among a host of famous names who have used their creative talents to support this year's Christian Aid Week.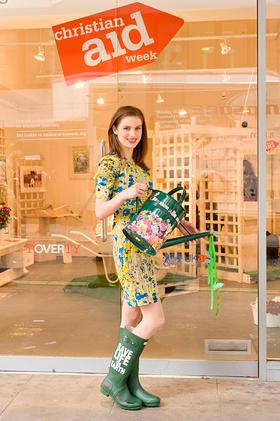 Over 15 stars have customized gardening tools, which will be displayed in a Soho pop-up shop from 14 – 19 May and auctioned at www.ebay.co.uk/christianaid.
The theme of the fundraising week is 'give the tools to help people in poverty out of poverty', and Christian Aid is hoping the celebrity decorated tools will raise vital funds for its work in countries such as Sierra Leone. The shop at 63 Broadwick Street, adjacent to Carnaby Street, will be open from 10 – 7pm daily to give the public a chance to view these unique items, which range from watering cans and gardening gloves to wellies and herb pots.
Among the items going under the hammer are Tali Lennox's watering can, Lemar's watering can, Kara Tointon's herb pots, Bill Nighy's bucket and VV Brown's paint brush.
One of the stars involved is young British model, Tali Lennox. Daughter of singer and humanitarian, Annie Lennox, Tali is no stranger to charity work. She recently travelled to Sierra Leone, one of the world's poorest countries where around half the population depend on agriculture, as a Christian Aid Week ambassador. There, Tali visited communities that have already benefited from Christian Aid funds and heard how war torn communities, who faced a daily battle against malnutrition after the multinational food companies fled during the war, were left with no tools or equipment to farm.
Tali said: 'This was the first time I got to see how small changes can transform lives in such a big way. People are being provided with the kinds of things we in the UK would take for granted. The country has so much potential. They just need the right tools, and that's where the donations have been so vital.'
This year there is an even greater focus on fundraising as the first £5million donated to Christian Aid Week 2012 will be matched by the Government pound for pound, allowing the charity to help more people in poor communities around the world work their way out of poverty.
Karen Lobo-Morell, Christian Aid, said: 'It's fantastic to have so many stars using their creative talents to support Christian Aid Week. Buying a watering can decorated by Lemar or a pair of wellies customised by Katherine Hamnett will mean people can not only own a great one-off, but will be helping poor communities around the world. Millions of people rely on subsistence agriculture to feed their families and they just want to be given the tools to work their way out of poverty. We want as many people as possible to come down to the shop and check out what our stars have created.'
To donate to Christian Aid Week, give online at www.caweek.org, call 08080 006 006 or text 'GIVE' to 78866 to give £5.
Christian Aid would like to thank Shaftsbury Estate for the kind donation of the shop, Hunter for donating the boots decorated by Katharine Hamnett and David Shrigley, Next Model Management and eBay for support with the special auction.