Pocoyo, the little boy in blue who has captured the hearts of children and their parents the world over, and Stephen Fry, who narrates the animated Pocoyo television series, will appear together in the "Get Caught Reading" annual national campaign in May organized by the Association of American Publishers, the trade association representing the premier U.S. publishing companies.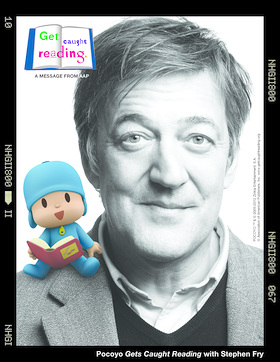 The annual "Get Caught Reading" initiative was created to remind people of all ages how much fun it is to read. As part of the campaign, Pocoyo is depicted "caught reading" with Fry in posters made available to teachers and parents for use in classrooms, libraries and other locations throughout the country.
In addition to his numerous film and television roles (Sherlock Holmes: A Game of Shadows, The Hobbit: There and Back, and hit TV series, Bones), Fry is an accomplished writer, performer and film director, who has contributed columns and articles to newspapers and magazines and has written four novels and a two volume autobiography.
"Since I was a young boy reading has given me great joy, transported me to extraordinary places and helped me to experience amazing escapades," said Fry. "It is my pleasure to remind others that reading books is an incredible passport to a lifetime of unlimited adventure, and I am honored to participate in this year's 'Get Caught Reading' campaign."
"Pocoyo is a wonderful vehicle for introducing young children to reading, both in terms of developing language skills and in enjoying the written word," said Maria Doolan, Managing Director of Brand and Business Development for Zinkia Entertainment, Pocoyo's creator. "We are thrilled Stephen Fry has joined Pocoyo to celebrate the 'Get Caught Reading' campaign, and with Random House launching a variety of Pocoyo books in America this August, the campaign is also a great way to help promote this new partnership."
"Small children already see Pocoyo as a reflection of themselves, their curiosity about and discovery of the world around them," said Chris Angelilli, VP, Editor-in-Chief, Random House/Golden Books Young Readers Group. "By adding a few words to the already familiar images, youngsters begin learning basic reading skills without even realizing they're learning. As they advance from activity and picture books to beginning reader books, they gain confidence and really begin to enjoy reading. "
Research has proven that early language experience stimulates a child's brain to grow and reading to children gives them a huge advantage when they start school. Member organizations of the Association of American Publishers participate in a variety of ways in Get Caught Reading to encourage people of all ages to enjoy books and magazines and to share that pleasure with the young children in their lives.
Other stars who have appeared in Get Caught Reading posters include Diane Sawyer, Emma Roberts, Bill Pullman, Mary Kate and Ashley Olsen, Queen Latifah and Alicia Keys. Find out more here.