NESTLÉ JUICY JUICE, Feeding America and celebrity mom and anti-hunger advocate Samantha Harris celebrated the kickoff of the JUICY JUICE Fruit for All Project at the Los Angeles Regional Food Bank on May 31, 2012.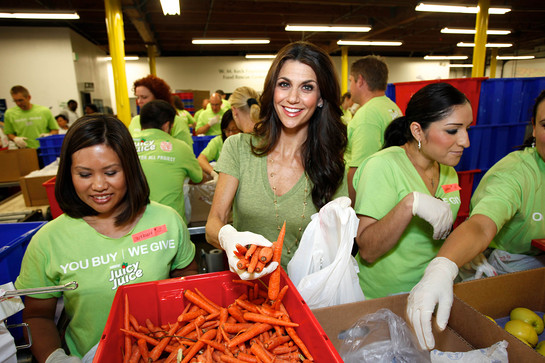 The program is designed to help alleviate summertime childhood hunger by delivering up to 35 million pieces of fresh fruit to children and families at risk of hunger nationwide. Until August 31, one piece of fruit will be provided to hungry kids and their families each time JUICY JUICE is purchased.
"I've always felt passionately that no one should have to suffer from hunger, but now that I am a mom, I know how devastating it would be to struggle to provide healthy meals for my kids," said Samantha Harris. "I'm delighted to be involved in a program that will help provide nutritious fruits that are so critical to a child's development."
An estimated 16 million American children are food insecure and live at risk of being hungry, particularly in the summer months when they are out of school and away from federally assisted school meal programs. Food pantries, soup kitchens and other charitable food assistance organizations report seeing an increased need for food assistance for children during summer months.
"The Fruit for All Project is a natural extension of the JUICY JUICE vision, which is to provide at least one full serving of fruit per serving," said Rob Case, president of Nestlé's Beverage Division. "We're thrilled that through the Fruit for All Project, we're able to broaden that commitment by partnering with supportive organizations and providing fruit servings to those in need."
Surprisingly, America's battle against hunger is not about having enough food; the real problem is of equity, distribution and access to food. Juicy Juice will become part of the solution this summer by supporting the harvesting and transportation of fresh, nutritious fruits, helping to mitigate the loss of more than six billion pounds of produce that are wasted each year in America. In addition to contributing with Juicy Juice purchases, families can volunteer at their local food bank or visit Juicy Juice's Facebook page to complete challenges like games, quizzes and puzzles to earn even more fruit donations.
"We're honored JUICY JUICE is partnering with Feeding America to help provide up to 35 million pieces of fresh produce to those in need," said Vicki Escarra, president and CEO of Feeding America. "This partnership will drive a significant increase in the fresh fruit distributed through our National Produce Program while at the same time engaging families to join in the fight against hunger within their own communities."
The Fruit for All Project complements Nestlé USA's ongoing commitment to fighting hunger in partnership with Feeding America. Since 1990, Nestlé has donated more than 250 million pounds of food and beverages, including Juicy Juice, to regional food banks nationwide.
To learn more, find the food bank nearest you or earn fruit donations for people in need, visit FruitForAllProject.com.