Her singles with Flo Rida – "Wild Ones" – and David Guetta – "Titanium" – peaked on international music charts this year, but there's one thing that Australian "Breathe Me" singer Sia doesn't want to keep climbing: the number of homeless dogs and cats.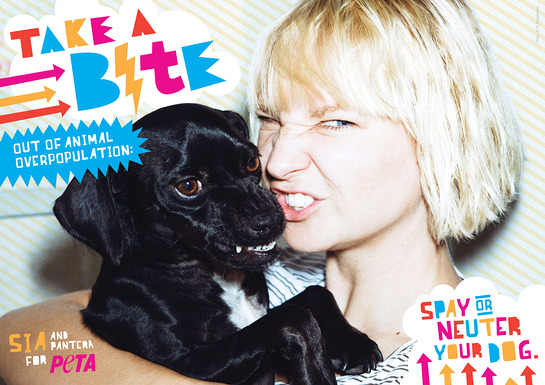 The ARIA Award–winning and Golden Globe–nominated Sia is collaborating with PETA on the issue closest to her heart for a feisty ad in which she and her adopted dog, Pantera, playfully bare their teeth alongside the words "Take a Bite Out of Animal Overpopulation: Spay or Neuter Your Dog".
"When it comes to fighting the overpopulation crisis of cats and dogs, there's only one solution: Always spay and neuter," says PETA Vice President Daphna Nachminovitch. "No one should bring more animals into the world when millions of dogs and cats are literally dying for a good home."
Six to 8 million unwanted cats and dogs enter animal shelters every year in the U.S., and roughly half of them must be euthanized because there aren't enough good homes. Many more never make it to an animal shelter and are left to fend for themselves on the streets, where they often are subjected to cruelty, are struck by cars, or suffer from starvation, disease, and weather extremes. The solution is simple: Always spay or neuter your animal companions. Spaying one female dog can prevent 67,000 births in six years, and spaying one female cat can prevent 370,000 births in seven years.
Sia is part of a growing list of musicians—including Animal Collective, Ryan Tedder, The Veronicas, Chester Bennington, Missy Higgins, Iggy Pop, Morrissey, Pink, Shirley Manson, and many more—who have teamed up with PETA to help animals.
Source: PETA