The Neutrogena Wave for Change campaign continues to empower teens with its annual program geared towards education in the U.S.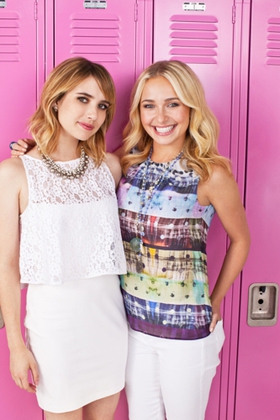 This year's philanthropic campaign encourages teens everywhere to make a difference by donating to educational charities to improve school programs and amenities for children of underserved communities. From July 1st to August 31st, Neutrogena and GlobalGiving, a fundraising charity that benefits education, have teamed up to reach a goal of $250,000 via simple online initiatives that prove a little teen spirit goes a long way.
Drawing on the campaign's motto, "make change a reality," brand ambassadors Hayden Panettiere, Emma Roberts, Sandra Echeverria and Miranda Cosgrove have come together to inspire others to get involved and spread the word.
"It means a lot to me to be part of Neutrogena Wave for Change because they are making it possible for kids across the country to have a brighter future and having a younger sibling know firsthand how important an education is for every child so they can be given the right start in life," said Brand Ambassador Emma Roberts. "This campaign makes it so easy for people to really make a difference."
Teens all over the country can show their support for the cause in two easy ways:
In addition to the online incentives, Brand Ambassador Emma Roberts has designed an exclusive Neutrogena Wave for Change tote bag in tandem with the philanthropic campaign. With the purchase of two Neutrogena facial skin care products at Target, customers will be gifted Emma's tote at check-out while supplies last.
Designed to give teens the power to make a difference by taking small actions, this year's emphasis on U.S. educational organizations, whether it's bringing better music or after school programs, is a special opportunity for teens everywhere to give back. To stay connected with the cause, teens can visit the Neutrogena Wave for Change website and Neutrogena's Facebook
Source: PR Newswire