Glee actress Jane Lynch yesterday unveiled the National College Finance Center website at a news conference in New York City.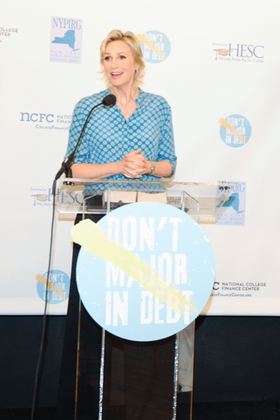 The National College Finance Center is a free, first-stop, unbiased resource to help educate students, prospective students and families all across the country on how to evaluate their options for financing a college education.
At the press conference, Ms. Lynch explained: "I really jumped at the opportunity to support this initiative because it is something that has affected my family. I have a ten-year-old daughter who will be going to college in eight years as well as nieces and nephews who are dealing with student loans right now."
Julio Basabe, a student at the College of Staten Island also provided some personal insight to those at the conference: "This is a resource designed for people like me who need help with the increasingly stressful task of financing a college degree. I came to college in the hopes of majoring and studying neurobiology. I refuse to 'Major in Debt'."
The main principles of the National College Finance Center website are:
To provide the best resources and ideas for a higher education finance plan
To take maximum advantage of available grant and scholarship options
To minimize debt accrued in acquiring a college education
To understand that all student loans are not created equal
To understand important repayment strategies that will save money and stress
The interactive, not-for-profit website provides comprehensive, state-specific information about obtaining scholarships and grants and provides guidance on the daunting variety of student loan options available today. Additionally, those who have already accrued student loan debt will receive customized information about the most effective options to pay that debt down.
"If you are going to college, or even thinking about it, make CollegeFinanceCenter.org your first stop. No one there is trying to sell you anything. The website will simply help you to seek free money first, borrow wisely or cope with the process of repaying your loans," adds Rebecca J. Weber, Executive Director, New York Public Interest Research Group (NYPIRG).
To help further exemplify the goals of the new National College Finance Center website, Lynch led students, parents, visitors and media through a fully realized and interactive telling of the Don't Major in Debt campaign story with the Don't Major in Debt Student House — inspired by the new trend in immersive theatre and to a large degree by the theatre phenomenon Sleep No More. In fact, the installation was produced by members of the creative and production team involved in that very show.
The drama of student life and college debt unfolded as visitors were led from room to room by following clues, watching videos, and witnessing and participating in true-to-life scenes. The arc of this immersive experience led participants from the clutter and confusion of paying for college to the knowledge and clarity offered by the website. Every moment of the experience was crafted to excite, entertain and educate. After a heightened theatrical experience, transitioning from confusion to clarity, disorder to order, daunting debt to a healthy financial future, students and their parents emerged equipped with an understanding of the website and its mission.
This launch event was the culmination of the New York Public Interest Research Group's (NYPIRG) ongoing grassroots awareness campaign entitled Don't Major in Debt that has, over the past several months, established a presence on Facebook, Twitter and college campuses, with users sharing their personal college finance stories.
The new website was developed and implemented by the New York State Higher Education Services Corporation (HESC). The New York Public Interest Research Group (NYPIRG), in collaboration with boutique media agency The Field (Social), directed a dynamic national public service announcement campaign to promote this valuable new resource.
Source: PR Newswire