As part of Arsenal's pre-season tour to Asia, Abou Diaby and Johan Djourou visited the Club's education project in partnership with Save the Children in Beijing last week.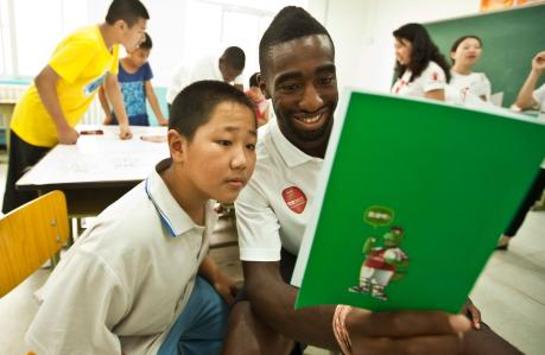 The Club, through The Arsenal Foundation, has made a donation of £300,000 to Save the Children over three years, helping to dramatically improve the quality of education for disadvantaged children aged six to 15, in some of Beijing's most under-resourced schools.
Together, Arsenal and Save the Children will train 200 teachers and 20 head teachers so that they have the necessary skills to deliver a better education for students in China's curriculum.
This will reduce the chances of children dropping out of school and the risk of being excluded from future opportunities in later life – giving more young people the chance to fulfill their potential.
A powerful partnership
As part of the visit, the two players delivered a collection of childhood stories from Arsenal players such as Van Persie, Gervinho and Rosicky, as well as staff and supporters, to inspire children to be the best they can be.
During the visit, Abou Diaby and Johan Djourou played football with the children and participated in arts and craft and reading.
Speaking about the visit Johan Djourou said, "This is the second visit that I have made to a Save the Children project – the first time back home at Emirates Stadium and now in China.
"It's incredible that the power of Arsenal can touch so many people in so many different ways. This project will make such a difference to these young children's lives and it's fantastic to be part of this. It's been a humbling experience today."
Transforming children's lives
Justin Forsyth, Chief Executive of Save the Children, added, "Education has the power to transform lives and provide many children with a route out of poverty.
"This exciting next phase in our partnership with Arsenal will help us reach thousands of children in China, providing them with quality education to build a brighter future and reach their full potential.
"We are thrilled that Johan Djourou and Abou Diaby have been able to see first-hand the huge difference our partnership is making to children's lives in the UK and overseas."
Source: Save the Children UK