Seductively winking her eye next to the caption "Too Much Sex Can Be a Bad Thing. Sterilise Your Dogs and Cats", Bollywood actor and adult-entertainment star Sunny Leone appears in a brand-new ad for PETA India.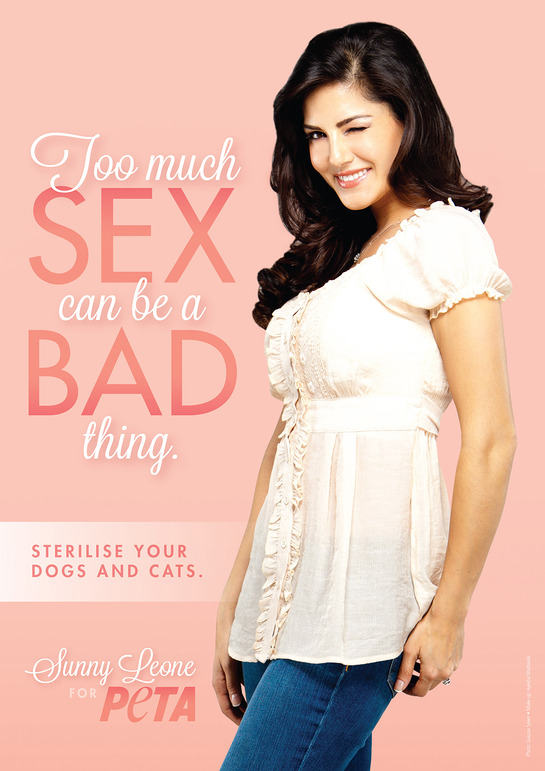 Leone – who was named 2003 Penthouse Pet of the Year – wants her legions of adoring fans to know that the only way to fight the worldwide animal homelessness crisis is always to have companion animals sterilised.
In an exclusive interview for PETA India, Leone says, "I believe in not buying – and adopting. And it's because there's so many dogs out there that need a home, that were left on the streets. … They just need that love, and if you can rescue an animal, then that's one of the greatest gifts you can give somebody". She further explains, "I believe that every single dog should be spayed and neutered. You don't want to continue the cycle of homeless dogs or cats. And spaying and neutering also keeps them healthy. It prevents them from having different diseases that they can get if they are not".
Thousands of unwanted cats and dogs enter animal shelters every year in the UK, and many of them are euthanised because there simply aren't enough good homes for them. Many more never even make it to an animal shelter – they are abandoned to fend for themselves on the streets and are often subjected to cruelty or succumb to starvation, disease or injuries. The only answer is prevention through always spaying and neutering your animal companions. Spaying one female dog can prevent 67,000 births in six years, and spaying one female cat can prevent 370,000 births in seven years.
Leone, who shares her home in Los Angeles with two rescued dogs, has also signed on to star in the sequel to the horror-thriller film Ragini MMS, one of the most talked about sleeper hits of 2011. The makers of Jism 2 have donated the film's wardrobe, including sexy lingerie worn by Leone, to PETA India for auction.
For more information about preventing animal homelessness, please visit PETA.org.uk.