Starkey Hearing Foundation and NBA Cares delivered the gift of hearing to almost 7,000 hearing impaired children and adults as part of a history-making hearing mission to China this week.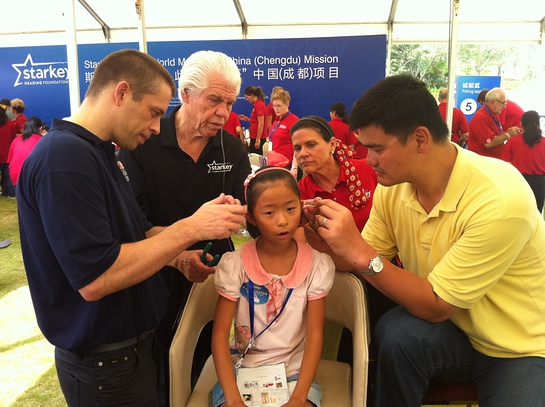 Having distributed hundreds of thousands of hearing aids in more than 97 countries, this marks the Foundation's first mission to China.
During the 10-day hearing mission to Xi'an and Chengdu, China, which officially concludes on August 29, 2012, Starkey Hearing Foundation's team of audiologists and staff were joined by eight-time NBA All-Star and former Houston Rockets center Yao Ming, two-time NBA All-Star and Los Angeles Clippers forward Caron Butler, and NBA China CEO David Shoemaker. Both Yao and Butler participated on behalf of NBA Cares and its ongoing support of Starkey Hearing Foundation's mission – So the World May Hear.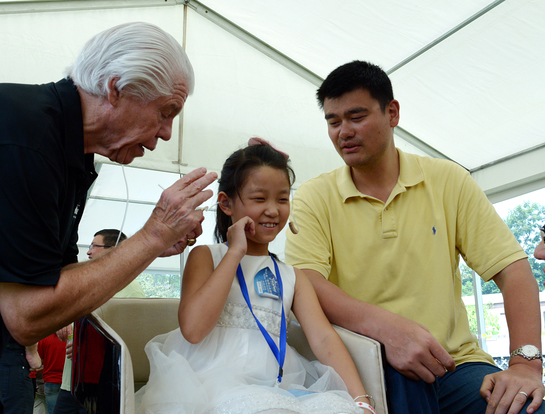 Yao and Butler assisted with the hearing aid fittings in Chengdu on August 26, and participated in NBA FIT clinics held at the Qingshengshan High School and Jinhua Wanda Plaza. The NBA family has teamed with the Foundation on previous missions in the United States, Egypt, Puerto Rico, and Turkey.
"The NBA family is proud to team up once again with Starkey Hearing Foundation to provide thousands of children and adults with hearing aids," said NBA China CEO David Shoemaker. "I am thrilled to have been a part of this life-changing mission. This ongoing partnership underscores the league's commitment, through NBA Cares, to supporting internationally recognized youth-serving organizations that make a profound difference for those in need around the world."
"Hearing is critical for participation and involvement in sports and other aspects of everyday life that help provide an individual with a sense of belonging and community," said Bill Austin, Founder, Starkey Hearing Foundation. "We are fortunate to have the support of NBA Cares to help those in need reach their full potential through hearing by reconnecting them with their loved ones and the world around them."
"It is very meaningful to help kids hear their parents' voices and to be able to call mom and dad in their own voice for the first time in their life," said Yao. "I am proud to partner with Starkey Hearing Foundation and NBA Cares in the first ever hearing mission to China, which will enable thousands of people to hear their loved ones for the first time."
"It is an honor to join Starkey Hearing Foundation and NBA Cares to give the gift of hearing to thousands of people in China," said Butler. "The ability to hear is such an important part of life on and off the court and I am thankful to have the opportunity to help improve the lives of 7,000 people."
Other sponsors of the Starkey Hearing Foundation mission to China include Pentair; Glen and Becky Taylor, owners of the Minnesota Timberwolves; and Bill and Teri Popp, Popp Communications. Grammy Award-winning songwriter and producer Dallas Austin also joined the Foundation in China.
The China hearing mission immediately followed the Foundation's 2012 So the World May Hear Awards Gala, which took place on August 4, 2012 and raised a record $7.6 million. The funds raised during the 12th annual event will allow Starkey Hearing Foundation to conduct hearing missions around the world.
Hearing missions are the primary way Starkey Hearing Foundation realizes its goal – So the World May Hear. Each year, the Foundation conducts hearing missions both in the U.S. and internationally, and as a member of President Clinton's Global Initiative, has pledged one million hearing aids for those in need within this decade. According to the Foundation, hearing loss is pervasive affecting more than 63 million children worldwide. Yet in a majority of cases, hearing loss can be corrected with the help of a hearing device, giving an individual the opportunity to better connect with their family, the community and the world around them.
Starkey Hearing Foundation is committed to creating sustainable systems of hearing care in each location it visits, providing hearing aid recipients with a year's supply of batteries and counseling on the care and maintenance of their new hearing devices. The Foundation also identifies and supports local health care partners to ensure patients have access to the help they need long after the mission ends.