UNHCR chief António Guterres and Special Envoy Angelina Jolie have spent a second day visiting Syrian refugees who have escaped the violence in their country.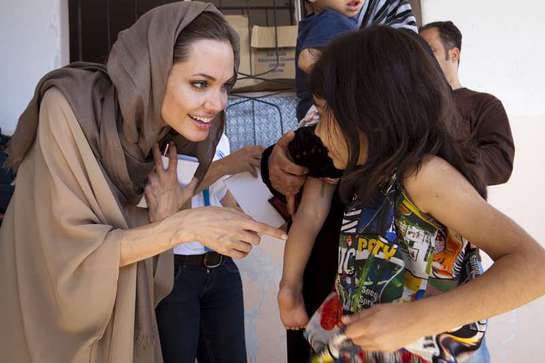 From UNHCR.org: "Guterres and Jolie, his Special Envoy, visited the Bekaa Valley neighbouring Syria on Wednesday morning and met some of the 67,000 registered refugees in Lebanon as well as members of host communities. In the afternoon, they held talks with top officials, including President Michel Sleiman and Prime Minister Najib Mikati, on the situation and challenges facing Lebanon and the humanitarian response from UNHCR and others.
"At a press conference after these talks, Guterres paid tribute to Lebanon for helping so many people at a time when it faced its own acute economic and security concerns. Urging the international community to help shoulder the burden, he said: "It is in everyone's interest to support not only refugees, but also the states of the region."
"At the same briefing, Jolie spoke about her meetings earlier in the day with refugees living with host families near the Lebanon-Syria border. "I was moved to meet Syrian families … in homes where they are welcomed and protected," she told journalists.
"To show her particular concern for refugee children, Jolie visited the Bar Elias School where UNHCR and Save the Children run remedial classes and provide psychological and social support. Many of the children have missed up to two years of school and are traumatized. Lebanese children also attend the programme to promote integration.
"Every day, some 1,000 refugees request registration appointments from UNHCR. To ensure that refugees are quickly registered and assisted, a new mobile registration team was established in the Bekaa Valley city of Baalbek last week, and a registration centre opened in Tripoli on the coast last month.
"UNHCR will also establish a presence in the south of Lebanon, where some 7,000 refugees are believed to be residing. In the meantime, UNHCR continues to provide food vouchers and non-food items, shelter improvements, health subsidies and education grants to all refugees who approach its offices."
To read more, visit UNHCR.org.