Attention 'Little Monsters' – your biggest dream just became possible – and for only $10! Beginning today, Lady Gaga fans can log on to Omaze.com, make a $10 donation to the Young Storytellers Foundation and be entered for a once-in-a-generation chance to be whisked away with a friend to Costa Rica to meet Lady Gaga backstage and watch her perform in the concert of a lifetime, (remember to breathe) complete with airfare and a two night hotel stay.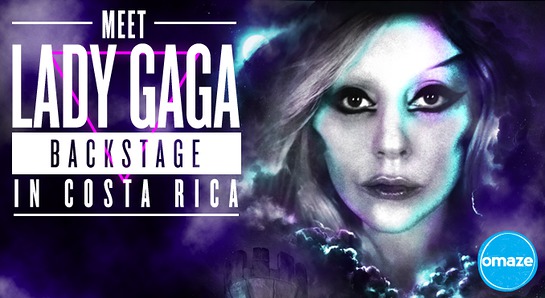 Every five entries from this online sweepstakes empowers an underserved student with a year-long arts mentorship through Young Storytellers Foundation. You can read more about the Lady Gaga experience here.
Omaze offers everyone the opportunity to engage in once-in-a-lifetime experiences with celebrities, athletes and the world's greatest thinkers with the proceeds benefitting a social cause. The process works similar to a charity raffle. The user friendly site allows anyone to enter to win an Omaze experience of their choice by donating just $5. Once the deadline to enter for the experience passes, they collect all the entries and select the winners through a third party computer generated random selection process. The proceeds are delivered to benefit a specific social cause. The goal of the campaign is clearly quantified and they track the impact overtime so you can see how your support has impacted lives.