Fergie, eight-time Grammy Award winner and global ambassador for the Avon Foundation for Women, was a special guest at the tenth annual Southern California Avon Walk for Breast Cancer in Santa Barbara, CA, on September 22-23.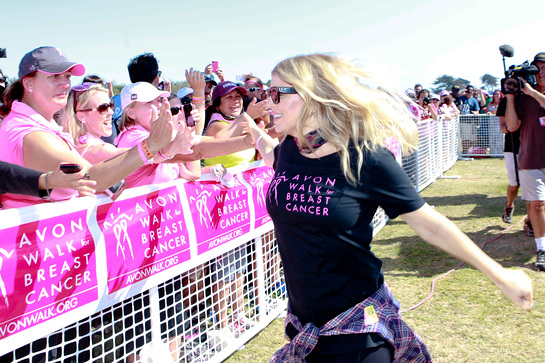 The Avon Walk Santa Barbara, the seventh of nine Avon Walks this year, raised more than $4.7 million to advance access to care and breast cancer research.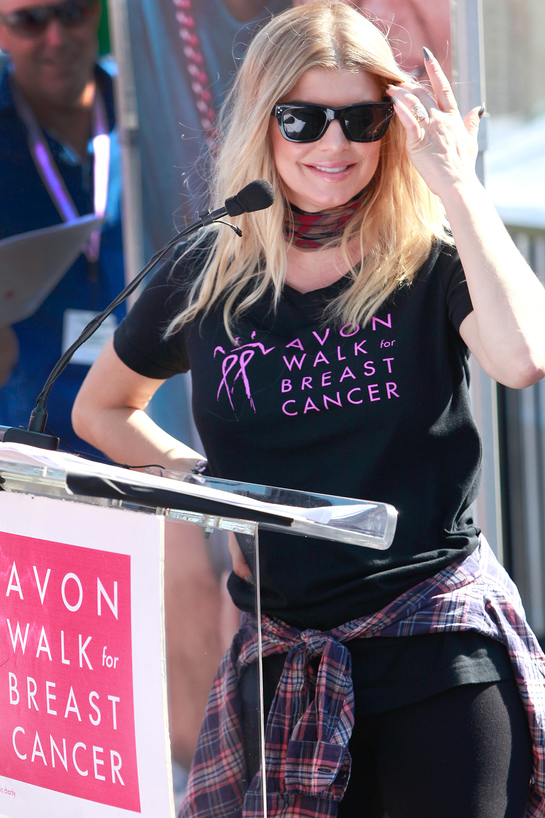 Fergie applauded the more than 2,000 women and men from 39 states (and Washington DC) and Canada and Northern Marine Island – including 271 breast cancer survivors – who were completing their second day of a weekend-long, 39.3 mile journey throughout scenic Santa Barbara. Fergie then joined the Walk participants' family, friends and supporters at the inspirational closing ceremony at Carpinteria State Beach to announce a total of more than $3 million in initial grants awarded to nine breast cancer organizations in Southern California, ensuring the funds raised immediately benefit the community. More grants are slated to be awarded throughout the year to breast cancer programs nationwide.
"This is my second time at an Avon Walk for Breast Cancer and I continue to be amazed by the participants' dedication, spirit and passion to fundraise like crazy and walk 39 long miles together to fight breast cancer," said Fergie. "We've all been touched by cancer in some way, including me. Both of my parents are cancer survivors and I've lost my grandmother and uncle to cancer. Thank you Avon Walkers for every step you take to help end this horrible disease."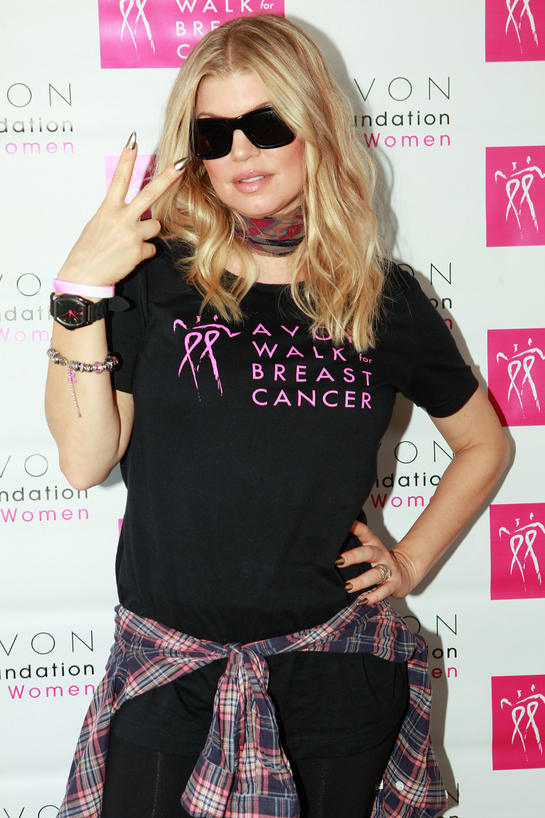 Carol Kurzig, president of the Avon Foundation for Women, said: "The Avon Walk Santa Barbara raises much needed funds for Southern California research and care organizations that are leading the fight against breast cancer and we are so thrilled that Fergie joined us today to help make this weekend even more special. Fergie is such a dedicated ambassador for the Avon Foundation for Women and we are excited we'll see her again next month at the Avon Foundation Annual Awards Gala saluting the 20th anniversary of the Avon Breast Cancer Crusade."
Following are the grants the Avon Foundation for Women awarded at the Avon Walk Santa Barbara Closing Ceremony:
The Avon Breast Care Center at the

UCLA

. Jonsson Comprehensive Cancer Center and Olive View Medical Center received $750,000 to continue Avon Foundation support for the Avon Cares for Life Program, which includes on-site patient navigation, survivorship programs and a high-risk clinic, as well as support for their research clinical trials program.
Olive View Medical Center received $750,000 to support the conversion of their screening facilities to 100 percent digital equipment. The updated mammography and ultrasound equipment will enable more patients to receive breast imaging and more cancers to be diagnosed earlier, while reducing wait times.
The Dr. Susan Love Research Foundation received $500,000 to support the Love/Avon Army of Women. The Army of Women is changing the way that breast cancer research is done – significantly reducing the time it takes to recruit research study volunteers and encouraging researchers to study the changes happening in healthy women before breast cancer develops to learn how to prevent it.
The John Wayne Cancer Institute received $300,000 to support its research study, which is looking into whether bacteria or a virus plays a role in causing breast cancer.
Project Angel Food received $125,000 to support meal delivery and nutritional counseling services for people fighting breast cancer and their families throughout Los Angeles County.
Four organizations that are part of the Avon Safety Net program, a network of more than 100 hospitals and community-based programs across the country supported by the Avon Foundation, received grants. The program works to ensure that women and men who might otherwise fall through the cracks of the healthcare system have access to timely and high quality care. Following are the grants:
The Breast Resource Center of Santa Barbara received a grant of $50,000;
Community Memorial Health System of Ventura received a grant of $120,000;
St John's Healthcare Foundation of Oxnard received a grant of $165,000;
University of Southern California in Los Angeles received a grant of $250,000.