Project Angel Food's annual Angel Awards returned on Saturday, September 23, to honor Emmy Award-winner Sheryl Lee Ralph with the inaugural Sheryl Lee Ralph Legacy Award, while AIDS activist, artist and author Mary Fisher received the 2023 Angel Award.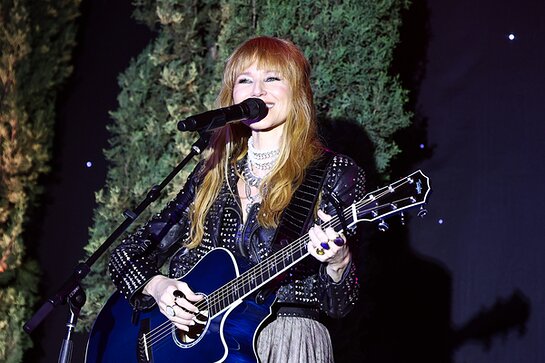 The event, held outside Project Angel Food's Hollywood kitchen in a ballroom under the stars, featured a performance by multi-platinum, Grammy-nominated singer-songwriter, Jewel and an elegant dinner prepared by Los Angeles' renowned Angelini Osteria. Funds raised from the Angel Awards will support the organization's operating costs, as Project Angel Food prepares and delivers over 125,000 meals every month to people living with life-threatening illnesses at zero cost.
Introduced by actor and comedian Steven Weber and media personality Rachel Lindsay, Chief Executive Officer of Project Angel Food Richard Ayoub kicked off the evening with remarks to welcome guests. Ayoub stated, "The Angel Awards Gala has always represented community, joy, unity of purpose and a demonstration of what is possible when we call on you – our most cherished angels – and you answer in such resounding and inspiring generosity."
Actress and comedian Lily Tomlin bestowed the inaugural Sheryl Lee Ralph Legacy Award to Sheryl Lee Ralph, in honor of her unwavering commitment to Project Angel Food over the last three decades. Tomlin said, "Sheryl Lee Ralph is a force of nature. And when she walks into a room, she brings her own damn spotlight, and she has used that light to stand up for the HIV/AIDS community when few would, and she has used it to right social injustice, to fight ignorance, and to advocate for change… Sheryl Lee Ralph has exemplified an unwavering commitment to assisting those in need, particularly through her profound involvement with Project Angel Food." Tomlin also shared a letter written by Vice President Kamala Harris to Ralph to congratulate her for this incredible honor.
In accepting the award, Ralph said, "I never ever dreamed that someone would be naming an award after me and then put the word 'legacy' behind it."
Olympic gold medalist Greg Louganis and author David Kessler, presented the 2023 Angel Award to Mary Fisher, a distinction previously bestowed on Jamie Lee Curtis, Elizabeth Taylor, George Michael, Sharon Stone and Whoopi Goldberg, among others. Judith Light provided a surprise video tribute to her dear friend, the honoree. Upon taking the stage, Fisher stated, "I'm humbled by your tribute. My prayer for all of you, and for Project Angel Food, is to find the will and the strength to go on. When the call to give grows boring, and the need to walk the talk grows clear, may we all know that our feet may be weary, but our souls are rested."
Actor, host, and musician Jai Rodriguez introduced Jewel to the stage to perform an enchanting acapella cover of "Somewhere Over The Rainbow," along with her empowering hits "Hands," in conjunction with the 25th anniversary of her second studio album Spirit, and "No More Tears."
Additional celebrity guests in attendance included John Goodman, Megan Hilty and Brian Gallagher, Tara Reid, Tyler Henry, Rachel Lindsay, James Charles, Midori Francis, Ronnie Woo, Lawrence Zarian, Gregory Zarian, Mindy Cohn, Tamara Braun, Annika Noelle, David Kessler, Michael Corbett, Joey Zauzig and Brian Grossman, plus Gino and Elizabeth Angelini.
The event also featured a live auction with offerings including a reading from clairvoyant Tyler Henry from the television series Hollywood Medium With Tyler Henry and Life After Death With Tyler Henry; a VIP chef's experience at Steak 48's Beverly Hills restaurant; a Majestic Montana vacation with five nights at a luxurious 20-acre, private, multi-lodge estate at Flathead Lake, Montana; and a Pretty Woman package featuring diamonds from Jason of Beverly Hills, which were modeled in the auction by actress Tara Reid, and lunch and a makeover at The Four Seasons Beverly Hills. The evening also featured a drawing for a Mexican Riviera Escape with three nights in an ocean casita at The Four Seasons Resort Punta Mita, and a three night, three-bedroom stay at Villa Romantica at the Verano Estate in Puerto Vallarta.
The Angel Awards were presented by naming sponsor Wells Fargo, with Glamazon L.A., Amazon's LGBTQ+ Affinity Group, as a principal sponsor.