Cesar Millan, Scooby-Doo and Warner Bros. Consumer Products took over the National Mall for the Second Annual National Family Pack Walk on September 29, in Washington, D.C.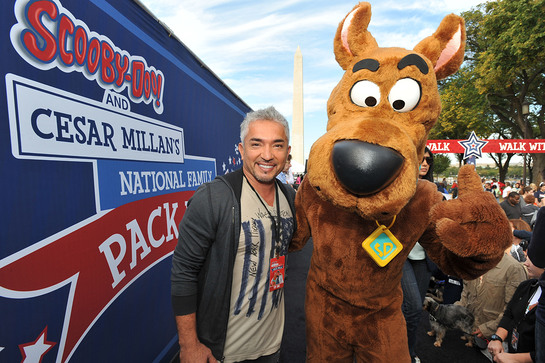 Pack leaders, Cesar Millan and Scooby-Doo, accompanied by an estimated ten thousand friends and supporters, gathered at the National Mall for the "One Million Paw March."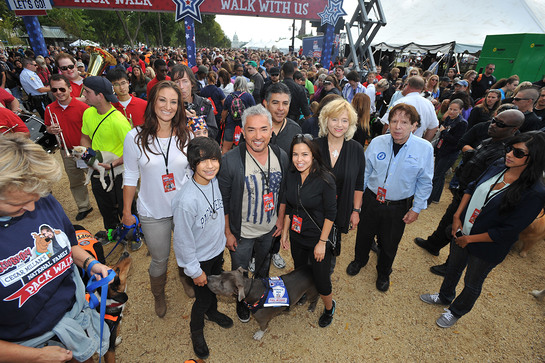 Dog lovers around the country also joined the movement, which united pack families in a series of community Pack Walks, led by North Shore Animal League America shelter partners and Mutt-i-grees Curriculum partner schools, occurred during the weeks leading up to the National Family Pack Walk day event. The Pack Walk movement benefits the Cesar Millan Foundation's cause of promoting animal welfare by supporting the rescue, rehabilitation and re-homing of abused and abandoned dogs and by establishing community humane education programs, including the Mutt-i-grees Curriculum.
"The Pack Walk supports a mission that is close to my and Scooby-Doo's heart – that is the rehabilitation and adoption of unwanted and abandoned dogs," said Cesar Millan. "With America's favorite canine Scooby-Doo as my partner, we will work to ensure dogs everywhere have the best quality of life."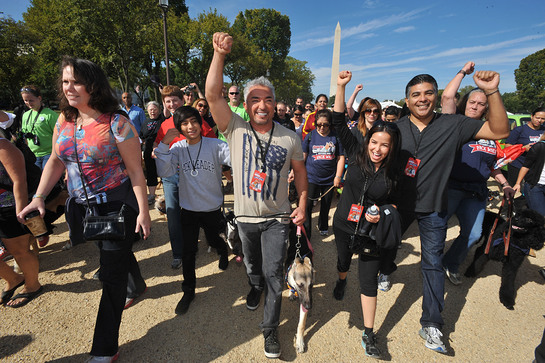 Families loved the 55-ft Scooby-Doo themed balloon floating over the National Mall, interacting with Scooby-Doo and the engaging games at the Mystery Machine and many other kid-friendly activities and entertainment.
"We are excited to bring this family-friendly event to DC in an effort to ensure dogs everywhere get the chance to live a healthy and happy life," said Karen McTier, Executive Vice President, Domestic Licensing and Worldwide Marketing, Warner Bros. Consumer Products. "This year we've expanded the Pack Walk to include more educational activities and offer fans and dog-lovers around the country a chance to participate in local community events to get involved and raise awareness to help Scooby and Cesar accomplish their mission."
In honor of Scooby-Doo, the official "Pet Ambassador" for the Pack Walk, families enjoyed the heart-warming tale of Scooby's adoption, "Scooby-Doo, Where Are You?," with the Scooby-Doo interactive Storybook Buddy at the family-friendly Expo following the one mile Pack Walk. A commemorative new release from Hallmark, the interactive Storybook Buddy plush toy interacts with readers and can be used online and with a free, interactive iPad app, available at www.hallmark.com/Scooby.
The National Pack Walk and the family- and pet-friendly Expo that followed were free and open to the public and included an afternoon of fun activities, including:
Entertainment, activities and education throughout the day, including hometown celebrity Pat McGee joining the fun; CollectiveUth Dance Troupe; a 55-ft Scooby-Doo balloon over the National Mall; and an exciting sneak-peek at the all-new Mystery Machine making a pit-stop at Pack Walk before it embarks on it regional tour
Patriotic support from quintessential community partners include the Smithsonian's National Museum of American History, the National Children's Museum and DC Public Library
Crayola Barks & Crafts: A kid-friendly area featuring Scooby-Doo Color Wonder activities
MysteryPiece Theater: A screening room previewing Warner Home Video's Big Top Scooby-Doo! and Scooby-Doo! Mystery Incorporated episode "Theater of the Doomed" on Cartoon Network
Fur-Real Photo Booth: A digital photo booth with a green-screen backdrop to capture the day's memories
Pawformance Stage: Entertaining and informative demonstrations by professionals on dog agility, dog dancing and dog disc-play
Ruh-Roh Run Around: A pet paradise for social dogs to enjoy off-leash play; staffed with trainers to offer pet owners tips and advice
Scooby-Doo Scavenger Hunt: A Scooby-Doo mystery with a patriotic twist
Barkcade Games: A variety of Scooby-Doo board games from Pressman
North Shore Animal League America Mobile Adoption Unit: Up to 60 dogs from local DC shelter, Homeward Trails, available for adoption
Pack Pals Pawvillion: Informational booths from community partners including National Children's Museum, DC Public Library, Run Around Hound, Rockin' Rover,

MAD

Dog and the International Association of Canine Professionals
Smithsonian National Museum of American History: Cesar kicked off the inaugural programming celebrating Hispanic Heritage Month at the museum
National Sponsors included Hallmark with a demonstration of the new Scooby-Doo Storybook (available at all Gold Crown stores now); Purina ONE with special treats; Vetericyn with on-site veterinarian check-ups offered throughout the day; Best Western; and Nat Geo Wild. The North Shore Animal League America shelter partners and Mutt-i-Grees Curriculum partner schools also hosted on-site events. For a full listing of activities, visit www.scoobypackwalk.com. All proceeds supported the Cesar Millan Foundation's efforts to help rescue, rehabilitate and re-home shelter animals.
For more information on the National Family Pack Walk at the National Mall – and on local events around the country – visit www.ScoobyPackWalk.com.
Source: PR Newswire