Sir Ian McKellen recently attended a special meet-and-greet event for the charity Step Forward, an organization that provides a free and confidential service to young people aged 11-25, living in and around Tower Hamlets in East London.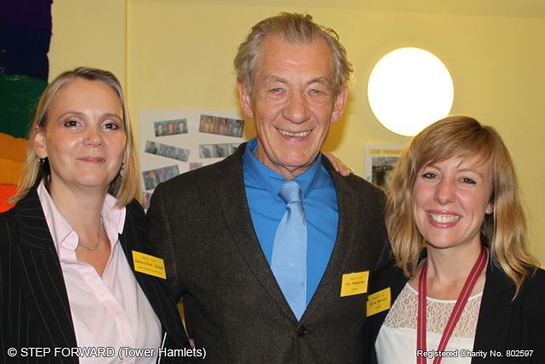 Sir Ian, who is patron of the charity, told CEO Jennifer Fear on the night that he was extremely pleased to see so many people willing to find ways to support them and he hoped that it would help them to raise their profile and the much needed funds to continue providing essential support services to young people in the coming years.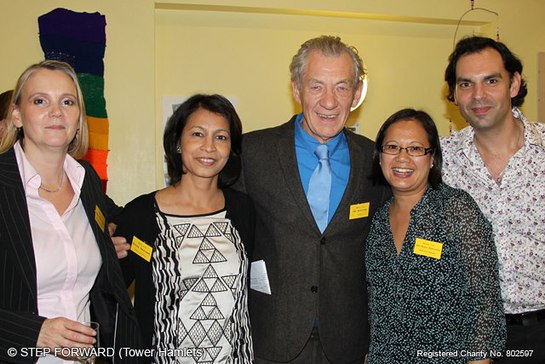 From the Step Forward blog: "We felt that after witnessing a summer of spectacular events here in London there was a growing sense of community spirit, positivity and pride amongst Londoners. With that in mind we arranged this event because we wanted an opportunity to get to know those in our neighbourhood better and share some stories about the positive impact Step Forward has on the lives of young people in East London.
"All our guests were able to meet the team, take a look around our fabulous building and hear about the work that we do. There were lots of opportunities for mingling over drinks and nibbles and our Patron Ian managed to speak to all of our guests individually. During the evening Ian was able to talk to people about the passion he has for our charity, why he has supported us over the last 6 years and his idea that he would like local business and people to 'adopt' Step Forward.
"Last year we reached 1,800 young people through our free and confidential information, counselling, personal development, and sexual health services. We supported young people affected by things such as neglect, abuse, depression, and bereavement and helped guide them to make positive changes, realise their self-worth, raise their aspirations and reach their full potential in life."
Step Forward actively challenges discrimination and welcomes young people from all sections of the community regardless of their race, gender, disability, sexuality, religious, political and cultural lifestyles and beliefs.
Sir Ian is helping to raise the profile of the charity – on Sunday he posted a link to their Facebook page and an article in the Independent on Sunday from his Facebook page. The article names the top 101 influential LGBT people in the country who make Britain a safer, fairer, better and more entertaining place to live. Step Forward CEO Jennifer Fear was named on the list at number 49 and Ian was named under the Lifetime Achievement category. Jennifer is one of the few people in the top 50 who work for a charity.
"Congratulations to Jennifer and her remarkable team in managing to carry on with their amazing work throughout another year, despite all the odds," said Sir Ian. "The public recognition that our CEO has achieved of late is, of course, well-merited but it also reflects well on everyone who supports her at Step Forward."
Find out more about Step Forward here.